Ilya Ilin Focuses on '07 Worlds
Alexi Ni, head coach of the powerhouse Kazahk weightlifting team, told IronMind® today that his superstar lifter Ilya Ilin is building his year around the 2007 World Weightlifting Championships.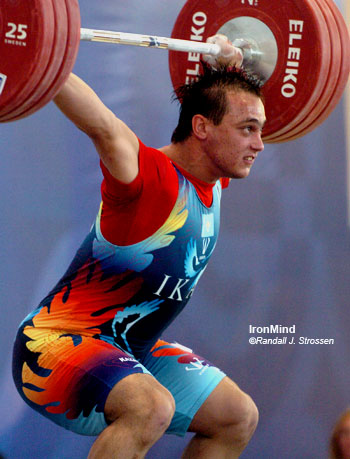 Ilya Ilin (Kazakhstan) ripped this 175-kg snatch on his way to a gold medal performance in the 94-kg category at that 2006 Senior World Weightlifting Championships. IronMind® | Randall J. Strossen, Ph.D. photo.
Last year, Ilya Ilin picked up gold medals at the Junior World Championships, the Senior World Championships and at the Asian Games - an incredible performance that seems perfectly suited to the extremely talented young lifter. Still, taking the long view of things and knowing their priorities, Ni said that Ilya Ilin will not compete, for example, in the Junior or the Senior Asian Championships this year, or even in the Junior World Championships, as they prefer instead to focus their efforts on producing a top performance at the Senior World Championships, which is an Olympic-qualifier - meaning that placement there determines how many weightlifters a country will be eligible to send to the 2008 Olympic Games in Beijing.