Strasbourg - After the snatches, things looked good for Vitali Dzerbianiou (Belarus), but one big clean and jerk by Igor Bour (Moldavia) turned the tide.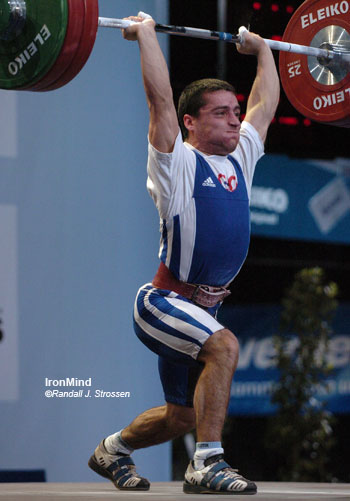 Igor Bour pushed ahead of Vitali Dzerbianiou with his first clean and jerk, and he went on to win the 56-kg category at the European Weightlifting Championships today in Strasbourg. IronMind® | Randall J. Strossen, Ph.D. photo.

Dzerbianiou marched through three good snatches, ending up with 122, but the gap seemed much larger than the three-kg lead he had over Bour. Bour made 115 and 119, before missing 121, but none of his lifts looked easy, and Dzerbianiou had made three pretty effortless-looking lifts.

Dzerbianiou opened with 140 in the clean and jerk, for the lead, but then Bour, who originally was in for a 147 opener, smoked 143, for the lead. The wisdom of the change in weight seemed even greater when Dzerbianiou missed the jerk with 144 on his second attempt. He came back on his third attempt and following a very strong clean, he made a decisive jerk, to move back into the lead.

Bour showed that his original opener was no bluff, as he took the weight on his second attempt, for a good lift and the gold medals in the jerk and in the total. Not content to stop there, he made another good lift with 151 on his third attempt. This was a big class for Moldavia, as Bour's teammate Igor Grabucea won all three bronze medals.

Earlier today, Estafania Juan (Spain) won the women's 48-kg category with a 189-kg total, while Nurcan Taylan (Turkey), well off her best lifts, came in second with 186. Genny Pagliaro (Italy), who narrowly missed the lift that would have given her the gold medal in the snatch, was third, with 179 kg.

Marioara Munteanu (Romania) won the women's 53-kg category with a 190 total, followed by Natliya Trotsenko (Ukraine), with 186, and Svenlana Ulyanova, who hit 184 kg.