IWF Elections: Calling for a New Course
With the IWF elections drawing near, most of the discussion is about a change in leadership—whether citing lengthy reports, accounts in the press or personal anecdotes, plenty of serious questions have been raised about unreported funds, massive cash transactions and curious patterns in the sport's doping control procedures.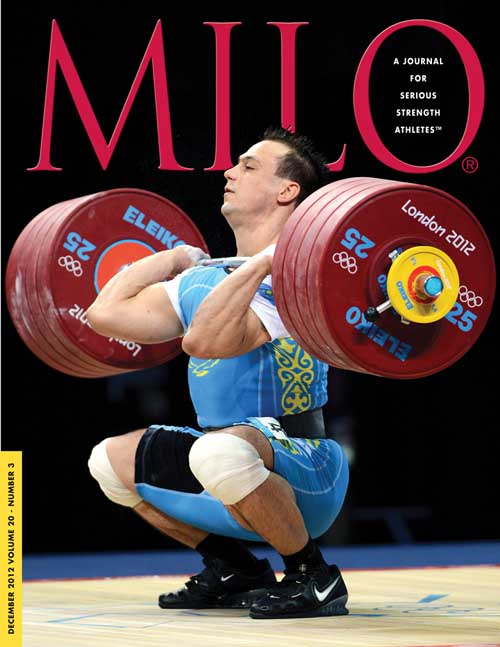 A lifter like Ilya Ilyin can't help but inspire with his performances—he is fully capable of generating excitement far beyond the inner circle of the sport. It is time for weightlifting to cast off its blinders, quit doing business as usual and enter the 21st century. IronMind® | Randall J. Strossen photo.


Certainly, there is good reason to consider a substantial overhaul in terms of how the sport of weightlifting conducts business because if it were a business, it most likely already would have declared bankruptcy and some of its leaders been deposed, if not brought to trial.

Serious stuff, but let's leave those matters to others and dwell on something that while lacking the tabloid element is an even more serious indication that things have gone seriously wrong in the sport and whoever captains the ship in the future needs to have a much different sense of where he is headed.

In short, the sport of weightlifting is dying, a relic of the last century, mired in an approach spawned in the Cold War era and one that takes its operating cues from a socialist approach to sport, rather than one based on the open market reality of the 21st century.

So, power is consolidated in the hands of a few, who rule imperially, and rather than building a sustainable enterprise that can thrive without limit in the market, we have an approach that limps along via government grants, payments for drug fines, and marking up the hotel rooms that the competitors and officials participating in major championships are required to stay in—all the while turning those contests into bloated week-long affairs aimed more at building quantity (think hotel revenue and entry fees) than quality.

Been to a major weightlifting championships lately? See any real spectators? How about the sponsors? Or the kids clamoring to get into the sport?

Instead, you're in a large hall with the bottom third dominated by the stage and the many handfuls of officials who oversee lifting that takes place in what is virtually an empty arena—the only people in the stands are coaches, athletes and significant others.

Of course, there are exceptions, as we have seen with Pyrros Dimas in Greece or Naim Suleymanoglu in Turkey or, more broadly, for the 2011 World Championships in Paris, but generally speaking, the sport exists in a social vacuum. Why?

Is it that strength is not recognized or appreciated? Or that the snatch and clean and jerk are too obscure?

This is hardly the case because TWI was smart enough to launch a TV show, created by Barry Frank, called the World's Strongest Man in 1977. It has a huge global viewership and continues through all these years—a fabulous success by any television standard. The world's strongest man? Sounds like the birthright of weightlifting to me, so who was in command when a TV show waltzed away with this title? Would the CEO turn a blind eye and escape pointed questions from his board and his shareholders if the formula for Coca-Cola were stolen on his watch?

And as for the lifts themselves, consider that CrossFit, which began in a garage about a decade ago, is now a business worth in the range of US$50,000,000 and it's projected to possibly grow tenfold. Guess what's among its core movements? The snatch and the clean and jerk. In fact, ask people who are doing these lifts what they are doing and they're likely to say, "CrossFit."

Speaking with my Eurosport colleague David Goldstrom, who heads a company called Televison in Europe and first came to weightlifting in 1995, he mentioned that Eurosport alone had approximately 31,000,000 viewers during this year's Senior European Weightlifting Championships in Tirana, Albania, which he called "very good viewing" and said "there might be another 10,000,000 from the other countries."

Goldstrom sees this as a clear indication of the sport's untapped potential: "There is so much more we could be doing. The sport is fast moving, it has a strong climax . . . everyone understands strength," he said.

Cutting to the chase, I asked Goldstrom to grade the sport (giving it anything from an A to an F) in terms of making the public aware of and appreciative of it.

"C is as far as I could go," he said. And in terms of capitalizing on its assets, Goldstrom gave the sport "a definite F."

Goldstrom, incidentally, was quick to praise the organizers of the 2011 European Weightlifting Championships in Kazan, Russia for having done an unusually good job in terms of things like staging and facility management, and the 2011 World Weightlifting Championships in Paris, France for presenting a theater-like stage and for attracting a bigger audience than could be accommodated within the hall, day after day.

I would second those and add that what Antonio Urso and David Goldstrom brought to the 2008 Senior European Weightlifting Championships (Lignano Sabbiadoro, Italy) deserves special mention for what I called "Best Staging, Best Lighting . . . The New Look of Weightlifting" (MILO, September 2008, Vol. 16, No. 2, p. 25).

Incidentally, while it's easy to cast the marketing failures of the sport in ideological terms, there is no requirement that success must come in the form of a Harvard MBA or a shirtsleeves California entrepreneur: My first serious discussion about how weightlifting needed to do a better job of promoting itself was with the Chinese coach Xiong Han Yang, and it was president of the Chinese Weightlifting Association, Ma Wenguang, who kindly agreed to send his 2004 Olympic gold medalists Shi Zhiyong and Zhang Guozheng and coach Chen Wen Bin to the USA for an exhibition IronMind had organized at the 2005 Arnold Sports Festival, in what was the first time weightlifting was featured on the main exposition hall stage.

Whether it's finances or drugs, the rules of the business must be followed or sanctions should be expected. It's also the case that businesses that do not adapt to meet the demands of the marketplace will go the way of the dinosaur and the buggy whip.

It's time for weightlifting to clean up its act and get with the times: out with the old and in with the new.

### 



The IronMind Forum: discuss this article, talk strength, get help with your training.

You can also follow IronMind on Twitter.