IHGF Triple Header in San Clemente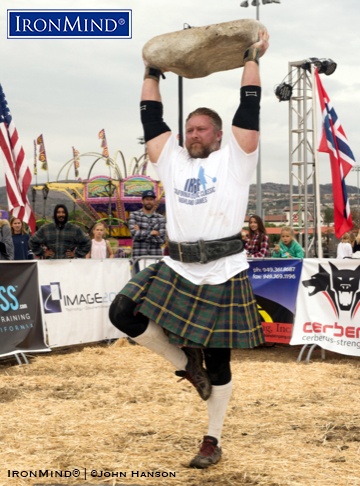 The International Highland Games Federation (IHGF) had three powerhouse contests in San Clemente, California: IHGF All-American Stones of Strength, Women's IHGF All-American Strength Games, and the IHGF California Celtic Classic Highland Games Challenge.


2018 IHGF All-American Stones of Strength
by Francis Brebner
President, International Highland Games Federation (IHGF)



 
The finals of the IHGF All-American Stones of Strength took place in sunny San Clemente, California at the Carnival Colossal. Ten strength athletes contested five stonelifting disciplines with eyes on the main prize of an all-expenses paid trip to compete in the IHGF Stones of Strength World Challenge in Fefor, Norway in August 2019. The competitive lineup of athletes included the 2018 winner of the IHGF All-American Stones of Strength championships, Mike Congdon, along with Dusty Davis, Joshua Eisele, Casey Garrison, Adam Jeremiah, Derek McCracken, Nate Garcia, Cesar Alvarez, Ryan Ratkowski, and Dale Holthaus.

In the 55-lb. stone putt, Garrison opened with an incredible putt of 23' 4-1/4" and  then upped that mark to 24' 3-1/2" to win the event, leaving Congdon in second at 21' 1/2" and Jeremiah in third at 20' 5-3/4".

In the Husafell stone carry, athletes could choose a 340-lb. or 400-lb. stone, with the 400-lb. stone a challenge in getting a handle on it. Jeremiah set the mark to beat at 87', and Congdon produced a lung-busting 176' 6". The big surprise came when Eisele, at 6' 5" and only 245 lb., set an incredible distance of 250'. Garrison, known for his amazing stone carry abilities, could only manage 150'. Later Casey noted, "I did not get the right position on the stone from the start, but I was happy enough with third place."
 
In the overhead stone press (ground to chest, then overhead for reps in 75 sec.), athletes had the choice of a 180-lb. or 260-lb. stone. Athletes could start with the 260-lb. stone, but if they could not press it, they could drop to the lighter stone, and 1 rep with the heavier stone beat any number done with the lighter stone. Most of the group managed between 1 to 4 reps with the 180-lb. stone. Congdon went straight for the 260-lb. stone and came so close to locking it out; taking the gamble, he stayed with the 260-lb. stone but used all his time and energy, gaining no points in this event. Garrison looked amazing as he lapped the 260-lb. stone, then swiftly pulled it high onto his chest and locked it out for not 1 but 2 reps to take his second win. Second place went to Davis with 4 reps on the 180-lb. stone and third to Eisele with 3 reps.
 
Athletes had 60 sec. in the stone medley to pick up three stones at 200, 260 and 330 lb. and carry them over a course of 15 m. Four athletes finished the course with Congdon showing great conditioning in a time of 28.19 sec. for the win. Second was close, with Garrison nipping Jeremiah, 31.40 to 31.87 sec.

The final event, the Atlas Stones, showcased the heaviest series of stones ever used in an IHGF championships event—320, 365, 400 and 450 lb.—with 60 sec. to load as many stones onto barrels as possible. Three athletes managed 3 stones, with Congdon settling for fourth place with 37.09 sec., Jeremiah taking third in 26.76 sec. and Eisele second with 22.51 sec. Garrison put up a world-class performance in placing all 4 stones onto the barrels in 59.58 sec.
 
Overall places:
1. Casey Garrison
2. Joshua Eisele
3. Mike Congdon
4. Adam Jeremiah
5. Dusty Davis
6. Derek McCracken
7. Nate Garcia
8. Cesar Alvarez
9. Ryan Ratkowski
10. Dale Holthaus
 
One of the best All-American Stones of Strength competitions to date, the athletes were a lot stronger, and the stones were the heaviest and most challenging in a major IHGF competition.

 
2018 Women's IHGF All-American Strength Games
by Francis Brebner
President, International Highland Games Federation (IHGF)

This year's Woman's IHGF All-American Strength Games included one of the biggest and strongest lineups to date, with eleven strength athletes competing in seven feats of strength: Emily Elliot, Wendy Sharpe, Liefia Ingalls, Kristin Rhodes, Meg Ayers, Julie Rader, Ghitta Larsen, Andrea Dowling, Jane Battenfeld, Laura Espinoza, and Jessica Byrd. The winner would secure a place at the 2019 IHGF Stones of Strength World Challenge in Fefor, Norway.
 
The 20-lb. stone putt was a dingdong battle between Rhodes and Ingalls, with the win going to Rhodes at 23' 3" over Ingalls at 23' 1-1/2". Third was Rader with 21' 10-1/2".
 
In the overhead stone press, athletes could choose a 120, 140, or 180-lb. stone, with 75 sec. to complete as many reps as possible. Athletes could start with a heavier stone, and if unsuccessful, could move down to a lighter stone. Ingalls went right to the 180-lb. stone, coming close to locking it out in several attempts before moving to the 140-lb. stone to pump out 3 reps, good enough for fourth place. Ayers and Rader tied for second place with 4 reps each, and Rhodes knocked out 6 smooth reps for the win.
 
In the farmer's walk, athletes had 60 sec. to carry 185 lb. in each hand over a course of 30 m in the fastest time possible. Ingalls just topped Rhodes, each clocking super-fast times of 21.14 and 21.78 sec. respectively. Third was Sharpe at 25.31 sec.
 
In the deadlift, athletes had a choice of lifting one, two or three men seated on a deadlift frame, at 300, 350 and 400 lb. Sharpe took the early lead with an impressive 24 reps, which was surpassed by Ingalls at 27 reps for third. Rhodes squeezed out 29 reps for second, and first place went to Rader, who powerfully pumped out an astounding 35 reps.
 
The stone medley consisted of three stones at 120, 140 and 180 lb. to be carried over a course of 12 m in 60 sec. Ingalls, known for incredible speed and stamina, stormed the course in a record time of 26.25 sec. with all 3 stones. Second was Sharpe at 31.58 sec., and third Rhodes at 33.87 sec.
 
In the keg over bar, athletes had 60 sec. to throw a series of five kegs ranging from 25 to 35 lb. over a 14' bar. A tough event, half of the group managed to throw all the kegs, with Rhodes prevailing in a swift time of 13 sec. A close second was Ingalls at 14.60 sec., with Rader third at 22.20 sec.
 
The final event was the Atlas stones, four stones at 185, 225, 250, and 285 lb., with 60 sec. to lift the stones onto barrels. Ingalls, the current world record holder for the heaviest Atlas stone lifted at 331 lb., looked confident going into the event, and she took the final honors doing 4 stones in 49.88 sec. Second was a tight finish, with Rhodes marginally going ahead of Rader, doing 3 stones at 20.88 sec. to 21.28 sec.
 
Overall places

1. Kristin Rhodes
2. Liefia Ingalls
3. Julie Rader
4. Meg  Ayers
5. Wendy Sharpe
6. Jane Battenfeld
7. Ghitta Larsen
8. Emily Elliott
9. Laura Espinoza
10. Andrea Dowling
11. Jessica Byrd

Liefia Ingalls and Kristin Rhodes will both represent their country in next year's IHGF Stones of Strength World Challenge.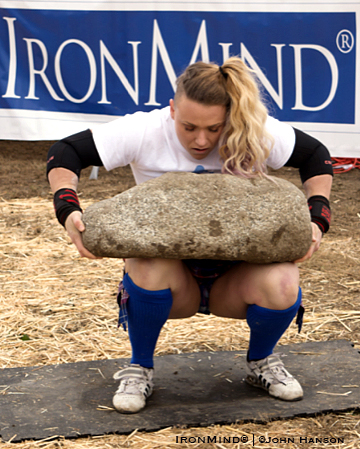 Liefia Ingalls (above) and Kristin Rhodes will represent the USA at the 2019 IHGF Stones of Strength World Challenge. IronMind® | ©John Hanson photo
 


2018 IHGF California Celtic Classic Highland Games Challenge
by Francis Brebner
President, International Highland Games Federation (IHGF)

The IHGF California Celtic Classic Highland Games Challenge invited four athletes from 3 different classes—pro, A group and lightweight—and the lineup included American Highlander Colin Dunbar, Eddie Brown, Karl Gehrke and Shane Thomas.
 
The keg over bar had weights at 20, 25, 30, 35, and 40 lb., with 60 sec. to throw them over the 16'-bar. Two athletes cleared all 5 kegs, with Dunbar clocking a fast time of 13.80 sec. to second-place Brown at 27.26 sec. Gehrke and Thomas each cleared 3 kegs for third and fourth respectively.
 
The caber for distance weighed 70 lb. at 16' long, with a run of 4 m to a trig. Brown executed perfect timing and landed a distance of 42' 7-3/4" for the win, followed closely by Dunbar at 41' 7", Thomas at 39' 10-3/4", and Gehrke at 38' 9".
 
Dunbar went all out in the 55-lb. stone putt, with a best of 24' 8-1/2" for a new field record. Second was Brown at 19' 10-1/2", third Thomas at 16' 10-3/4", and fourth Gehrke at 16' 9".
 
Dunbar continued in the 56-lb. weight for distance with a fantastic series of throws and a best of 41' for the win. Brown trailed in second at 31' 4".  Gehrke at 28' and Thomas at 25' brought up the rear.
 
In the 56-lb. weight over bar, all eyes were on the Highlander Dunbar, who in the last 6 weeks in this event had broken the amateur world record twice, setting the current record of 18' 6" at the finals of the IHGF All-American Highland Games Championships in Wichita. Everyone but Thomas cleared the opening height of 14', and Gehrke exited at 15'. Dunbar and Brown soldiered on through 16', and at 17', only Dunbar prevailed, leaving Brown in second place.
 
Dunbar then asked for the bar to be raised to 19' for a new world record, but it was no go.  Dunbar will be competing as a pro next year, starting with the Queen Mary Highland Games.
 
Overall places:
1. Colin Dunbar
2. Eddie Brown
3. Karl Gehrke
4. Shane Thomas
 
In all, the IHGF competitions in San Clemente were fantastic, and the IHGF would like to thank everyone involved for their help with the event, including Sherri Fontes, Scott Brengel of East West Strength, S10 Fitness, Casey Garrison, and Steve Belanger and sponsors Indie Semiconductor, Lifetime Flooring, and Cerberus for their support. Thanks also to the athletes who traveled from all over the U.S. to compete. The IHGF is planning more major and exciting events for the coming year in California for men and women, including televised coverage.

                                              ###



You can also follow IronMind on Twitter, Instagram and on Facebook.                        



Want to talk grip, strongman, weightlifting . . . everything strength? Visit the IronMind Forum.