IHGF Hungarian Stones of Strength Challenge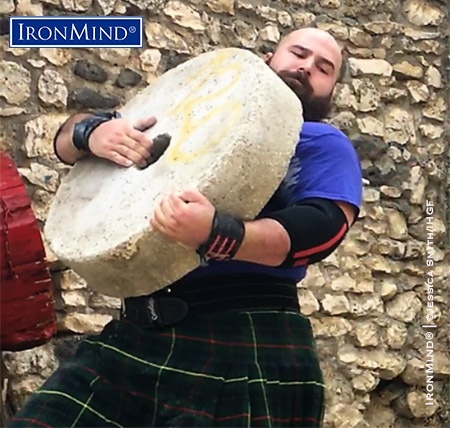 It was a close battle among the top three, but Zsolt Molnar prevailed at Kinizsi castle, site of the 2017 IHGF Hungarian Stones of Strength Challenge.


2017 IHGF Hungarian Stones of Strength World Challenge: Molnar Prevails at the Castle
by Francis Brebner
IHGF President
 
One of Hungary's famous landmarks, the Kinizsi castle, which dates back over 600 years, set the stage for this year's IHGF Hungarian Stones of Strength World Challenge. Ten International strength athletes were invited to compete in five stonelifting challenges, all of which took place within the majestic castle grounds. Athletes included Erik Karacsondi, Hungary; Janos Sebestyen, Hungary; Zsolt Molnar, Hungary; Tibor Kiss, Hungary; Mike Salter, USA; Nick Romero, USA; Roni Kecskes, Serbia; Norbert Nagy, Slovakia; Lukas Svoboda, Czech Republic; and Austin Sztajdocher, Canada. 
 
In the 28-lb. Braemar stone putt, the stone used was an authentic stone cannonball that was last blasted from a cannon a few centuries ago—and was launched again by our herculean athletes. In the end, Svoboda snatched the win with a putt of 8.72 m (28' 7"), followed by Romero in second at 8.19 m (26' 10") and Kiss in third at 7.97 m (26' 2").
 
In the stone press overhead, athletes had lift from the ground to chest height a stone weighing 98 kg (216 lb.) and then press it overhead as many times as possible in 60 sec. Sebestyen won with 5 smooth reps; and second place was a three-way tie between Kiss, Molnar, and Romero, with 3 reps each.
 
Athletes then tackled the 120-kg (265-lb.) millstone carry for max distance, the shape and circumference of the millstone making it a cardiovascular challenge that pushed the athletes to the max of their overall strength. Molnar triumphed with a distance of 98.5 m (323' 2"), with Sebestyen in second at 90 m (295' 3") and Romero third with 82.92 m (272').
 
In the stone medley, athletes carried stones ranging from 89 kg (196 lb.), 98 kg (216 lb.) and 112 kg (247 lb.), over a course of 8 m (26' 3") in 60 sec. Molnar clocked in with a time of 19.45 sec., for a consecutive win, with Sebestyen in second at 23.71 sec. and just behind, Karacsondi in third at 24.66 sec.
 
The Atlas Stone, weighing 153 kg (337 lb.), was lifted over a 4' high bar for reps within 60 sec. Sebestyen, who had the lead by several points could only manage 1 rep, losing valuable points. Romero took advantage of the moment and went all out, completing 3 reps and just falling short of a fourth. His result was tied by Molnar. Karacsondi and Nagy each did 2 reps each.
 
Final placings
1. Zsolt Molnar           41.5
2. Janos Sebestyen      40.5
3. Nick Romero           40.5
4. Eric Karacsondi      33
5. Lukas Svoboda       24
6. Norbert Nagy          22.5
7. Tibor Kiss    20
8. Mike Salter  17
9. Austin Sztajdocher 14.5
10. Roni Kecskes        9.5
 
Adam Darazs of Hungary, IHGF vice president, was delighted with the overall event, the fine performance of the athletes, the filming of the show, and the perfect weather and castle setting—all fitting for a real stones of strength challenge.
 
                                                        ###



You can also follow IronMind on Twitter, Instagram and on Facebook.                        


Want to talk grip, strongman, weightlifting . . . everything strength? Visit the IronMind Forum.