IHGF Highland Games Seminar/Orange County Rolling Thunder Championships
"This past weekend the International Highland Games Federation (IHGF) clinic was held in Orange County past weekend combined with the Orange county rolling thunder Championships," reported IHGF vice president Francis Brebner.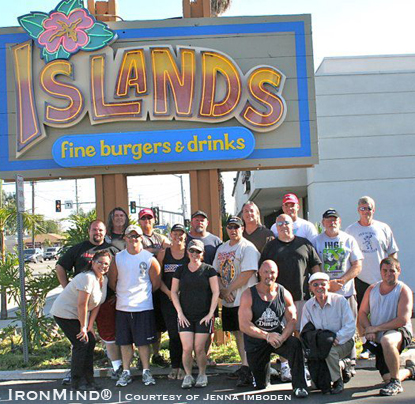 Islands Restaurant hosted the athletes attending the 2011 IHGF Highland Games clinic and the Orange County Rolling Thunder Championships. IronMind® | Courtesy of Jenna Imboden.


"A total of sixteen athletes attended the clinic with all showing great signs of improvement, one of which was Heather McDonald tossing a 14' long 85-lb. caber, slamming it over near every time. This was a caber that had proved a real challenge for Heather all year long, but since she has acquired the technique in this event I believe she will be a strong force to be reckoned with in the future Highland Games for certain," said Brebner, who is a seven-time caber world champion.

"After the five-hour marathon clinic, David Webster, OBE and president of the IHGF, did an hour-long talk on the history of Highland games which was warmly received by all the athletes. 



"All athletes then made their way to Islands restaurant for a meal which was sponsored by Travis Everhart, the regional manager of Islands restaurant, where the Orange county Rolling thunder took place.



"The Rolling Thunder competition got off to a great start with the women's event being won by Heather McDonald's with an impressive lift of 105 lb. In the masters' division it was all out between Steve Mittleman and Jim Frazer, with both tying with a lift of 165 lb, this was 20 lb. up on last year for Mittleman and 35 lb. up for Frazer. In third place was Steve Belanger, with 140 lb.

"In the title Open Orange County Rolling Thunder Championship, it was a very spirited group that fought it out with one competitor in particular, Brian McEjoy, who stole the show with a winning lift of 210 lb. 

"The IHGF would like to thank Travis Everhart of Islands restaurant for all their sponsorship," Brebner said.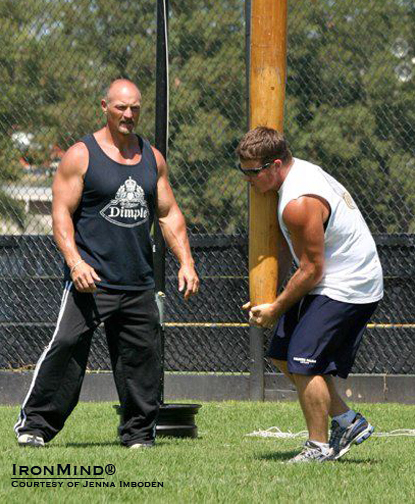 Under the watchful eye of seven-time caber world champion Francis Brebner, IHGF clinic participants honed their technique. IronMind® | Courtesy of Jenna Imboden.


###

Visit the IronMind Forum: talk strength, discuss this story. Strongman, grip, Highland Games, Olympic lifting, stones and more.

You can also follow IronMind on Twitter.