IHGF Beach Cities Strongest Man
The Metroflex Gym in Long Beach, California hosted the IHGF Beach Cities Strongest Man and Francis Brebner filed this report with IronMind.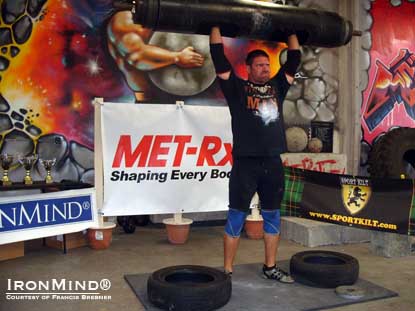 Scott Brengel on the log at the IHGF Beach Cities Strongest Man contest. IronMind® | Photo courtesy of Francis Brebner.


IHGF Beach Cities Strongest Man
by Francis Brebner

It was a great competition at this weekend's IHGF Beach Cities Strongest Man.

In the Open class, Chris Burke, Casey Garrison, Scott Brengel and Ryan Kaut went all out in the first event with the Log Lift which was won by a very impressive lift of 325-lb. lift by Casey Garrison. in the Novice class, Steve Ullom won over his closest rivals in his group, Steve Mittleman and Jacob Kehrberg, with a lift of 255 lb.

In the 450-lb. Farmer's Walk, which was done course of 150 feet for the fastest time, was won by Casey Garrison in the Open class, just marginally over Scott Brengel with a time of 15.68 seconds. Steve Ullom, in the Novice class, also blasted out a fast time of 18 seconds using the 400-lb. implements, just edging out Steve Mittleman for the win.

The Medley Race, which included moving two beer barrels weighing 200 lb., 220 lb. and a Prowler sled weighing 500 lb., over a course of 60 feet, gave Casey his third win, with a time 28.87 seconds. This was followed Jacob Kehrberg in the Novice class edging out big Steve Ullom, with a winning time of 41.69 seconds.

The Truck Harness Pull, which was done over a course of 100 feet, was very close indeed with Casey Garrison notching up his fourth straight win in succession and again just edging out Brengel. Steve Ullom won the Novice class.

The final event was the 250-lb. Atlas stone, which had to be lifted over a bar at a height of just under five feet, and Casey Garrison won the Open class with a total of thirteen reps in 60 seconds. Steve Ullom in the Novice class had his work cut out in the last event but managed to over pass Jacob Kehrberg's best of five reps with a total of six.

Final Results, top three:

Open class
| | | |
| --- | --- | --- |
| 1. | Casey Garrison | 5.0 |
| 2. | Scott Brengel | 12.5 |
| 3. | Chris Burke | 16.5 |
Novice class
| | | |
| --- | --- | --- |
| 1. | Steve Ullom | 7.0 |
| 2. | Jacob Kehrberg | 11.0 |
| 3. | Steve Mittleman | 13.0 |

In all it was a great competition that run very smoothly, a big thank you has to be given to veteran strongman Scott Brengel for all his input and for his crew which helped out immensely keeping time and setting up the equipment. A very big thank you to Teresa Hartel of Met-Rx for sponsoring the event with Met-Rx Nutrition. Next event on the IHGF calender will take place on the 1st of December which will be for the title of Beach Cities Strongest Man classes that will include the 180lb and under class and the 180lb - 230lb class.

### 



The IronMind Forum: discuss this article, talk strength, get help with your training.

You can also follow IronMind on Twitter.