Hungary's Strongest Man 2011
Adam Daruzs and Francis Brebner reported that "this past weekend in Pusztaottlaka, the Hungarian Strongest Man contest was held."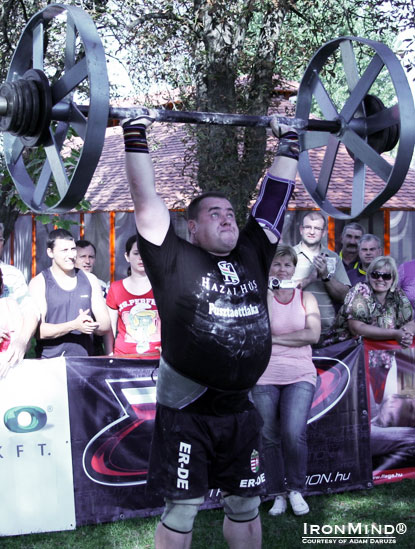 Szabo Zolt was the big winner at the 2011 Hungarian Strongest Man contest, where he won most of the events—including the Apollon's Wheels. IronMind® | Courtesy of Adam Daruzs.


"Pusztaottlaka is a very small village where only four hundred people live, but when their annual festival comes around, this small village swells to more than 35.000 people!

"The weekend for the Hungarian Strongest Man had perfect weather and a very enthusiastic audience that got behind the athletes as they battled through each event," said Darusz and Brebner.

The pre-contest favorites were Zsolt Szabó (who is the raw powerlifting European champion and a past winner of the Hungarian Strongest Man title), Akos Nagy (who won two gold medals at the 1997 Junior World Weightlifting Championships and has competed in the Strongman Champions League) and Estván Sárai (who trains with Zsolt Szabo).
Szabó won three out of the four events on the first day (truck pull, sack for shoulders for maximum, Apollon Wheels for maximum) and his performance included making " new national record in sack for shoulders event making a 180 kg look very easy!!," Darusz and Brebner said.

"The medley was won by Ákos Nagy. This medley event consisted of a 320-kg frame carry over a distance of 12.5m followed by a 175-kg barrel over the bar set at a height of 135 cm followed by carrying the 320-kg frame back to the starting position. In second place was Szabó, and in third place Tamás Hajnal, thetwo times under 105 kg strongman champion," said Darusz and Brebner.
Szabo won the first two events on the second day (a squat lift and the 56-lb. weight for height).

"The seventh event of competition . . . sack loading . . . consisted of three bag weighing 110, 120, 130 kg and was won by Tamás Hajnal, the youngest and lightest in contest won this event.

"The final event consisted of lifting a colossal 172-kg Atlas stone over a 122 cm high bar. Sárai, who is a specialist won this event snf made it look easy winning with four reps in just under one minute. Four other athletes managed a respectable two reps in this event also.

"The overall competition was won by Zsolt Szabó with a great performance all around in his victorious quest for his second Hungarian Strongest Man title. The festival's main organize, György Simonka, who is a senator in the hungarian parliament, was very happy with the competition and would like host a big international competition for the future!," Darusz and Brebner said.

Here are the final, overall points:
| | | |
| --- | --- | --- |
| 1. | Szabó, Zsolt | 64.5 |
| 2. | Nagy, Ákos | 55.0 |
| 3. | Sárai, István | 53.0 |
| 4. | Hajnal, Tamás | 40.5 |
| 5. | Saliga, Tamás | 40.0 |
| 6. | Endrei, Zsolt | 38.5 |
| 7. | Molnár Zsolt | 28.5 |
| 8. | Krajcs János | 25.0 |
| 9. | Lukács Krisztián | 12.0 |

###

The IronMind Forum: discuss this article, talk strength, get help with your training.

You can also follow IronMind on Twitter.