Hugo Girard, who was injured on the Conan's Wheel at the Mohegan Sun Grand Prix last week, has gone through surgery and has just left the hospital today.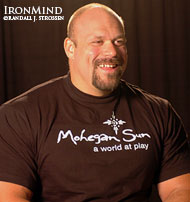 He was flying: Hugo Girard laid his cards on the table and won the first event at the Mohegan Sun Grand Prix, where he was in excellent shape and had been doing extremely well before he was injured. IronMind® | Randall J. Strossen, Ph.D. photo.
No injury is good, but this was a particularly tough break for the popular Canadian strongman who had gone through back-to-back Achilles surgeries on the same leg, and who, as a result, had been out of strongman competition for almost one and a half years. Not exactly sitting around idly in his time away from strongman competition, Hugo Girard's hard training was apparent immediately at the Mohegan Sun, as he looked great and wasted no time proving how strong he was. Things were going extremely well until the Conan's Wheel, where Girard tore his patella.

Just before he left the hospital today, Girard confirmed that there was no additional damage, which was good, and with an eye to recovery and the future, Girard said that rehab will start later this week.

Ken Brown, who is back from a recent world record performance in the silver dollar deadlift in Canada said he "was just sick for Hugo because he worked so hard to get in top shape. He's so good . . . he's just had some bad luck," Brown said.