Hugo Girard Out of Super Series Madison Square Garden . . . Evaluating Next Step in Strongman
Telling IronMind® that he is "in a process of reflection," top Canadian strongman Hugo Girard has officially pulled out of the Super Series Madison Square Garden Grand Prix.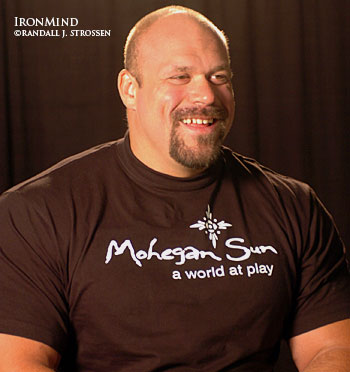 Canadian strongman star Hugo Girard confirmed that he has withdrawn from the Super Series Madison Square Garden Grand Prix, citing personal reasons. IronMind® | Randall J. Strossen photo.


Hugo Girard is coming off back-to-back injuries, but physically, he told IronMind®, he is doing fine. "My legs are fully recovered," but it's the mental side of things that are creating the difficulties. "I am dealing with some personal problems," Girard said.

"It's been very frustrating for me as I have been on the fence the last few weeks, and even though I am fine physically, I am just not committed 100% to competing. Competing under these conditions, I would not be doing anyone any good," said Girard, pointing out that this would be disadvantageous not only to himself, but also to the organizers and to the fans. "I would just be filling up a place that someone else could be taking," Girard said.

Meanwhile, Hugo Girard said that he is continuing to work on his Quebec Cup strongman series, as well as continuing to assess whether or not he will compete in this year's Canada's Strongest Man contest, saying that if he competes there, his goal would be to win, with the idea that the next step after that would be to compete in the World's Strongest Man contest.