Hugo Girard told IronMind® that in a couple more weeks, he will be stepping up his training, getting ready to return to strongman competition next year.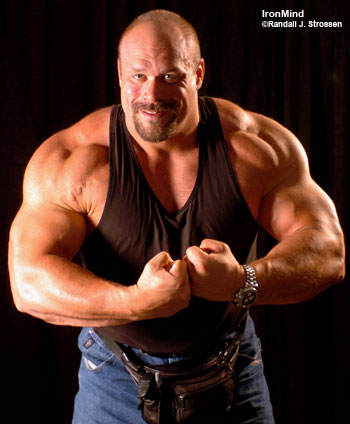 Wonder why Hugo Girard can press just about anything that isn't nailed down? Look at his delts. IronMind® | Randall J. Strossen, Ph.D. photo.

Girard, who has already returned from two major injuries, will be doing it again in 2007, and as part of his preparation, the Canadian strongman superstar said, "I have been working on conditioning, to give my body a rest." While still hard, Girard's training has not focused on heavy weight, but instead, it has emphasized a lot of reps, a lot of sets and very short rest in between sets. Thus, Girard might do five sets of ten reps in the bench press, inclines and flyes, with no more than one and a half minutes of rest in between sets.

"I am also working a lot on my grip," Girard said, explaining that he wants his grip strength to be more than equal to the task when he returns to strongman competition. Although not a grip specialist, Girard has closed a No. 3 Captains of Crush® Gripper in the past, and with a little specialized training, the expectation is that he will return to that exceptional level of grip strength.

Lest his fans think that all this conditioning work has turned Hugo into a mere stick figure, fear not: the mighty Quebecer said that he is presently tipping the scale at about 307.