Hossein Rezazadeh: US$10,000 Per Second?!
Qatar is hosting the 2005 World Weightlifting Championships and the organizing committee will be offering prize money for both top-three placings, and for junior and senior world records.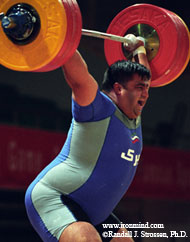 Iran's superstar weightlifter Hossein Rezazadeh nailed this 213.5-kg world record snatch at the 2003 Asian Weightlifting Championships (Qinhuangdoa, China). IronMind® | Randall J. Strossen, Ph.D. photo.

The prize money, which includes US$10,000 for each senior world record, is a first for the World Weightlifting Championships, IWF Director Aniko Nemeth-Mora confirmed today.

Since the reigning superstar of the sport - Iran's Hossein Rezazadeh - seems fully capable of breaking all three world records in the superheavyweight class, that means he could pocket US$33,000 for what would be a total of a few seconds of actual lifting time.

Not a bad rate for the two-time Olympic gold medalist, huh?