Highlander World Championships
Douglas Edmunds has released what he describes as the "athlete pool" for the Highlander World Championships, noting, however, that this "list is not yet final."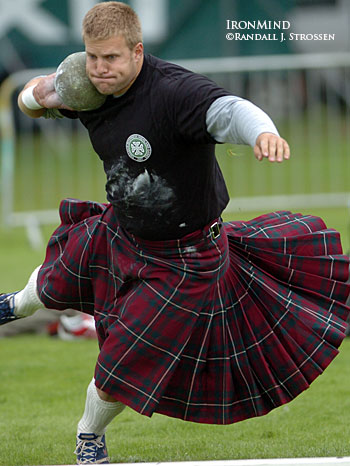 An Englishman in Scot's clothing: Scott Rider, already a Commonwealth Games shot putter and Olympic Games bobsledder, had the audacity - not to mention the talent - to win the Royal Braemar Highland Gathering Heavyweight title last year. IronMind® | Randall J. Strossen photo.

Gregor Edmunds (Scotland) - Current World Highland Games Champion
Ryan Vierra (USA) - 5-time World Highland Games Champion
Sebastian Wenta (Poland) - Current Highlander Champion, runner-up World Strongest Man
Kyrllo Chuprinin (Ukraine) - Current national discus champion and Olympian
Scott Rider (England) - Winner National Shot Put Championship, current Braemar Champion and Olympian
Wout Zilystra (Holland) - World record holder in weight for height
Gunner Pfingsten (Germany) - Runner-up European Shot Put Championship
Stefan Solvi Petursson (Iceland) - Iceland's Strongest Man
Mike Zoklywiecz (USA) - 3-time All-American discus champion
Carl Myerscough (England) - British record-holder in shot put
Geoff Dollan (Canada) - Canada's Strongest Man
Dave Barron (USA) - Runner-up World Highland Games Championship
Larry Brock (USA) - Current US Highland Games champion
Terry Hollands (England) - Britain's Strongest Man
Craig Sinclair (Scotland) - Scottish Junior Champion
Garret Johnston (USA) - All-American shot and discus champion
Mikhail Koklyaev (Russia) - 6-time Russian weightlifting champion and record-holder, runner-up World Strongman Championship
Saemunder Saemundsson (Iceland) - Icelandic Highland games record-holder

All names, credentials and other details are as presented by Douglas Edmunds, unedited, and IronMind® apologizes for any errors.