Highland Games World Championships Preview
Fit for royalty, the Homecoming and Highland Games World Championships, in fact, are set to welcome Prince Charles, heading the huge crowd expected in Edinburgh, Scotland next week.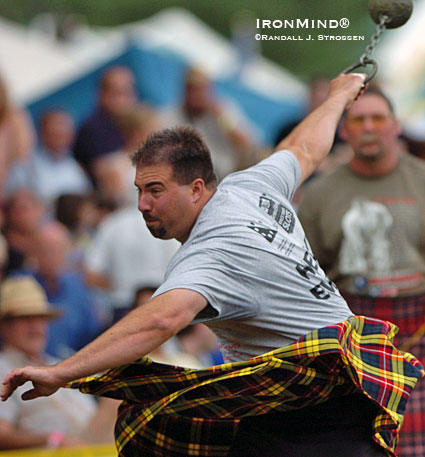 Sean Betz, shown at the 2005 Highland Games World Championships (Fergus, Ontario) is a top pick to leave Edinburgh next week with the 2009 title. IronMind® | Randall J. Strossen photo.


"I have had meetings in Edinburgh and visited Holyrood Park this week . . . It looks brilliant," David Webster, OBE reported. And as for the Highland Games World Championships specifically, David said, "Judging by early season results, the standard will be high."

Steve Conway, prominent Highland Games Athletic Director, told IronMind®, "My take on the Pro Worlds is that it will be a very close contest; it seems that everyone is throwing very well right now. I don't know much about Hans Lolkema or Aaron Neighbour but I hear that they are both very strong in all the events. Craig Sinclair and Greg Hadley have put up some nice hammer marks recently, and Larry Brock, HB3 [Harrison Bailey III], Sean Betz, Bruce Robb, Pat Hellier, and Eric Frasure have the proven track records, while Tommy DeBruyn seems to keep getting better as he gains more Pro experience. With that said and given that this venue will probably draw a huge crowd, I'd look for one of the veteran throwers to pull out the victory."

Former Highland Games world champion Francis Brebner, now turning his energy to judging and reporting on the Games, told IronMind®, "I have to tip Sean to win again after seeing his strong start to the season and he still seems to be improving, but my top three would have to be Betz, Brock, and Aaron Neighbour."

IronMind® will be there on the field, so stay tuned for more news and plan to follow our live updates on Twitter as well.