Highland Games Training Camp in France
"Today, Jean-Louis Coppet, who also is the main organiser of the Bressuire Highland Games in France and also the president of the French Highland Games Federation in association with the IHGF, said that the heavy events training session planned to bring in more French blood to the sport was a major success and there is a general agreement that traditional highland Games in France are gaining ground," Francis Brebner told IronMind®.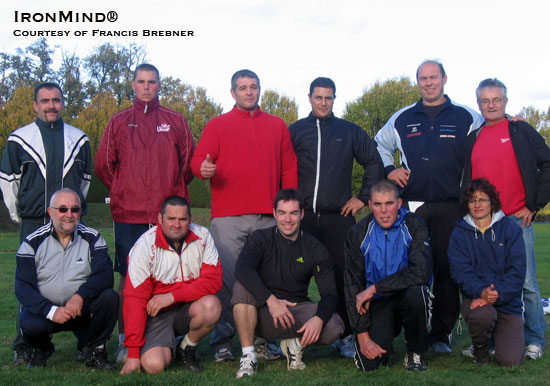 Wout Zijlstra (back row, second from right) lead a Highland Games training session in France today, organized by Jean-Louis Coppet (back row, far right), as part of his program to build the sport in his country. IronMind® | Photo courtesy of Francis Brebner.


"Jean-Louis Coppet said, 'We brought from Holland the charismatic Wout Ziljstra as coach to share his knowledge of the sport and its many techniques to the seven new French athletes who were kept very busy by Zijlstra the whole day, dedicating themselves to learning the process of heavy events. We've got a bunch of strong men, the enthusiasm is there, [and we have] the right feeling and the proper love for Highland Games in Bressuire,'" Brebner reported.

Brebner added, "This evening, Zijlstra said he, 'was happy and proud to see the French lads joining the World of Traditional Highland Games.'"
Tomorrow will be another day of coaching under the close eye of Zijlstra.

"Next year will see these budding athletes from [the] Bressuire [area] battle it out with other French throwers from Luzarches, France in the IHGF French Highland Games championships to be held on June 12-13, 2010, which will run alongside the first ever IHGF World Heavy Events Super Series, which Bressuire is proudly hosting," Brebner told IronMind®.

"A new page has been written this day for traditional Highland Games in France," said Jean-Louis Coppet. "I am a very happy man looking ahead to the Super Series 2010 and the involvement of French throwers in Europe. Many thanks to our master coach Wout Zijlstra, whom we expect to be back here in Bressuire in the early spring of 2010 for another coaching session."
Among its other credits this year, Bressuire, led by Jean-Louis Coppet working in close collaboration with the IHGF, hosted the 2009 European Highland Games Championships.