Highland Games Season Opens with the Queen Mary
"The Queen Mary Highland Games in Long Beach, California signals the beginning of the 2013 Highland Games season and attracted more than 10,000 spectators over its two-day heavy events competition this weekend," Francis Brebner reported to IronMind.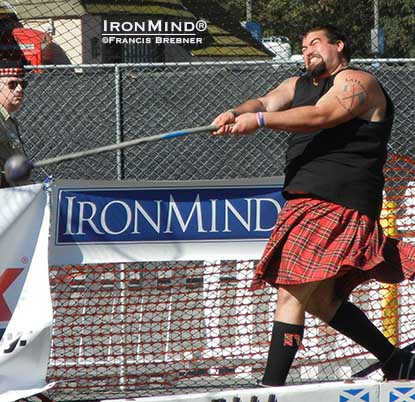 Steve Ullom, shown on the 16-lb. hammer, was part of the spirited competition in the A-group competition at the Queen Mary Highland Games. IronMind® | Francis Brebner photo.


"More than a hundred athletes signed up to compete, with more than a dozen novice athletes trying their hand at the sport for the first time.

"The competition in the A group category was most competitive within the whole group, the top three especially: Scott Hutchinson of Fullerton, California, Adam Breznia of Las Vegas and Steve Ullom of Orange County, California were all on fire.

"Even though Scott won seven of the nine events, he had to work hard for the wins, with Breznia breathing very hard behind him all the way and only four points separating the two after nine events.

"West Imboden, Athletic Director for the games was very happy with such a large turnout of entries to compete and how smoothly everything ran overall. Dave Garmen, SAAA President, was delighted to see such a large turnout of novice athletes from Southern California and the high standard of the A-group athletes competing.

Brebner had a chance to ask top gun Scott Hutchinson about his overall performance: "With this being the first games of the season I am very happy with my overall throwing and am looking to upping my marks in preparation for the next games on the circuit, which is Las Vegas in April, and going head to head against Adam Breznia, which this time is on his home turf and should be interesting."
### 



The IronMind Forum: discuss this article, talk strength, get help with your training.

You can also follow IronMind on Twitter.