Highland Games: SAAA Lightweight World Championships
Calling it "a huge success . . . a very interesting competition with many events coming down to a few inches between each placing," Ryan Seckman was enthusiastic about the 2012 SAAA Highland Games Lightweight World Championships held in Ventura, California over the weekend—won by Jeff Thornton.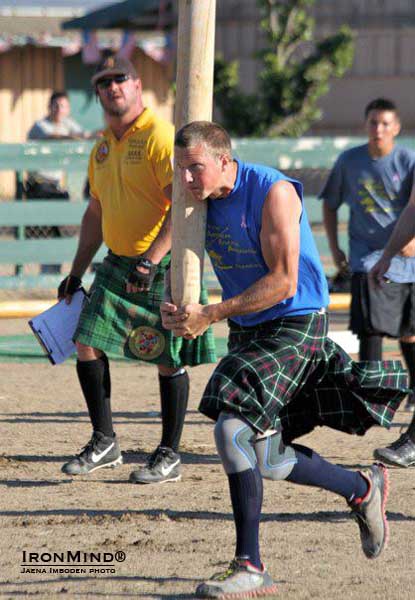 Jeff Thornton, 2012 SAAA Highland Games Lightweight world champion, on the caber. IronMind® | Photo courtesy of Jaena Imboden.


"As a world championships should be, it came dow to the last event to decide who would be the world champion," Seckman said. "Our new friends Torsten Huelsemann and Martin Kuhne from Germany were very competitive and a joy to compete and talk with during the event."
"A total of sixteen of the Worlds top ranked light weight athletes battled it out over nine events in all," Francis Brebner reported to IronMind. "Jeff Thornton of Tocoma, Washington won five out of the nine events to be crowned World Lightweight Champion for a second year in sucession. For second place overall, it was close tussle between Jacob Nicole of Phoenix, Arizona and David Howe of Cape Coral, Florida: It came down to the wire in the very last event in the caber toss, with the second place finish going to Jacob Nicol with a one and a half point lead over Mark Howe.

In fourth place was Scott Farr of Logan, Utah, competing in very his first world championships and putting up a great performance all round with the highlight win for this young contender being the caber with two perfect 12 o'clock tosses to finish the championships on a high and to place fourth overall," said Brebner.
"Asking Jeff Thornton how he felt about winning the Lightweight Worlds for a second time and about his performance on the day, he said, 'I could not be happier . . . My throwing on a whole is what I thought I would producing with the exception of the caber which still needs some work on with the timing. Brandon Goodman and Dave Garmen of the SAAA did a great work in putting this championships together and I look forward to coming back again next year and defending my title.'"

Brebner also talked to Brandon Goodman, the athletic director for the Seaside (Ventura) Highland Games, who he said he was very happy with the line-up of athletes and "the high standard of throwing all around,"
"It was a great win for Jeff Thornton once again," Goodman said, "and it was also great to see Germany's Torsten Huelsemann and Martin Kuhne, the top two light athletes from Germany, competing in this years Worlds. The interest in the lightweight has just been amazing and for next year we would like to see other internationally top ranked athletes competing in the line up also."

Overall Top 10
1. Jeff Thornton
2. Jacob Nicol
3. Mark Howe
4. Scott Farr
5. Philip Sansotta
6. Torsten Huelsemann
7. Martin Kuhne
8. Luke Lomsdalen
9. Brandon Chisholm
10.Jasen Vonguiness
###

The IronMind Forum: discuss this article, talk strength, get help with your training.

You can also follow IronMind on Twitter.