Highland Games: McKim and Betz Wins IHGF Team World Championships
Antigonish, Nova Scotia hosted the 2013 International Highland Games Federation (IHGF) Team World Championships and Francis Brebner has reported on the action for IronMind.



Dan McKim was red hot on the hammers, part of the winning formula for the his overall victory with teammate Sean Betz at the 2013 IHGF Team World Championships. IronMind® | Francis Brebner photo.


2013 IHGF World Highland Games Team Championships: McKim and Betz on Top
by Francis Brebner

Records tumbled on the first day's competition of the IHGF World Highland Games Team Championships in Antigonish, Nova Scotia, which celebrated its 150th year of Highland Games, the oldest continuing Highland Games outside of Scotland.

In the first event with the 22-lb. Braemar Stone, Poland's Lucas Wenta established a new field record with a distance of 44' 8-1/2", smashing the old record held by Sean Betz of 41' 7-1/2" set in 2009. In second place was Mike Zolkiewicz at 41' 1/2", with Matt Docherty in third at 39' 7".

In the 56-lb. weight for distance, Dan McKim was on fire and dominated with a winning distance of 46' 6". Second was Matt Vincent with 45' 5-3/4" and third Zolkiewicz with 42' 5-1/2".

The 22-lb. hammer was nothing short of world-class as McKim let fly with an unbelievable series of throws, his best being 119' 5-1/2" for the win. With extra attempts, he updated this to 125' 10" to set a new North American record and a new field record, annihilating the old record of 119' 10-1/2" held by Matt Sanford of Australia since 2003. In second place was Craig Sinclair with a throw of 117' 2-1/2" and in third Vincent with 114' 2-1/2".

The caber, which was 21' 6" in length and 120-lb. with very little taper, was turned by only one athlete, Dan McKim, in a perfect 12 o'clock toss. Zolkiewicz took second with an 85-degree attempt and L. Wenta was third with 75-degrees.

The second day of competition got off to a strong start for L. Wenta, who won the 16-lb. open stone with a putt of 56' 1/2". Vincent landed in second at 54' 1"with McKim not far behind in third at 53' 2-1/2".

Vincent showed great form in the 28-lb. weight for distance, equaling the field record held by Larry Brock set in 2009, with a distance of 86' 6" on his first throw. On his final attempt, he crushed the ground record with a rip-roaring 87' 4", which got a huge response from the spectators. In second place was McKim with 82' 1" and in third, Sebastian Wenta with 78' 10-1/2".

The 16-lb. hammer was enthralling as McKim unleashed a series of world-class throws, his best being 144' 8-1/2" for the win. Second place was a close match between Docherty and Sinclair, with the win going to Docherty at 139' 1-1/4" and Sinclair settling for third at 138' 2-1/2".

The next event, for the IHGF World Caber Tossing Championships, was electrifying to say the least. The caber, 120 lb. and 21' 4" in length with no taper at all, proved a worthy stick, with the win going to McKim, who pulled it out of the bag on his final attempt, nailing a toss of 12:10 and edging out L. Wenta, who placed second with a toss of 11:45. S. Wenta took third with a toss of 11:30.

The final scoring event of the championships was the 56-lb. weight over the bar, and it was won by Zolkiewicz with a height of 18'. McKim was second at 17', and L. Wenta and Betz tied for third at 16'.

Overall Points

1. USA Team 1 – Sean Betz and Dan McKim 56.5
2. USA Team 2 – Matt Vincent and Mike Zolkiewicz 78
3. Team Poland – Sebastian Wenta and Lucas Wenta 87
4. Canada Team 1 – Owen Williams and Matt Docherty 116.5
5. Team Scotland – Craig Sinclair and Sinclair Patience 123.5
6. Canada Team 2 – Danny Frame and Dirk Bishop 165.5


Having a word with the newly crowned champions, Dan McKim and Sean Betz, I asked how it felt for them both to win this title for a second time and to be here in Antigonish, which is one of the world's renown Highland Games on the international circuit. Sean said he was "very happy to win this again and to return to the Antigonish Highland Games and to be a part of its 150th celebration." "This is a very special Games for me," added Dan McKim, "my first time here in Antigonish, and it is an honor to be part of this historical event. This has to be one of the greatest competitions I have been in."

The IHGF would like to thank athletic director Donnie MacEachern, head judge Leo MacDonald, and field judge Marty Gilfoy for officiating at the IHGF World Team Championships, and the Antigonish Highland Games Society Committee for all its hard work in putting on such a tremendous event, which was second to none.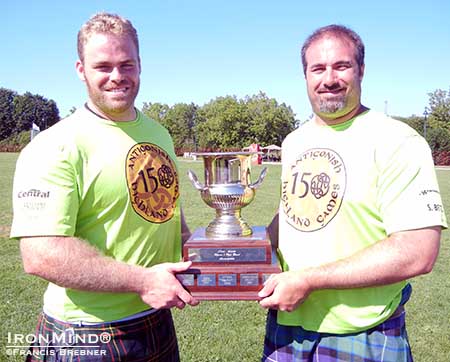 Team USA 1: Dan McKim (left) and Sean Betz (right) won the 2013 IHGF Team World Championships. Both men have also won the Highland Games World Championships as individuals. IronMind® | Francis Brebner photo.


### 



The IronMind Forum: discuss this article, talk strength, get help with your training.

You can also follow IronMind on Twitter and on Facebook.