Highland Games Heavy John Anthony Wins in Las Vegas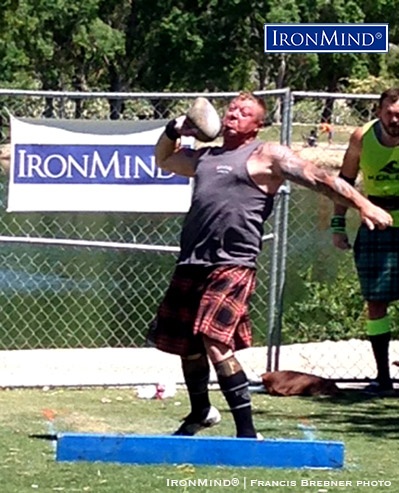 Cementing his status as someone on the rise in the Highland Games, John Anthony won the Las Vegas Highland Games. 




2017 Las Vegas Highland Games
by Francis Brebner
IHGF President
 
It was perfect weather over two days of competition at the Las Vegas Highland Games festival celebrating thirteen years of successive games, with large crowds packing the grandstand.


A main feature of the games was the A division in the second qualifying leg of the IHGF All-American Highland Games series, where the top two athletes will go on the championships hosted at the Great Plains Renaissance & Highland Games in mid-September. The topnotch 7-athlete lineup included Eddie Brown, Jacob Nicol, John Anthony, Andrew Heaton, Eli Kiener, Anthony Clinker, and Sean Burns.
 
The 22-lb. Braemar stone was a ding-dong battle from the first round till the last, with just inches separating the top four athletes. After the dust settled, Anthony had taken his first victory with a distance of 40' 7", a personal record. Kiener was second at 40' 6", with Burns in third at 40' 5".
 
The 16-lb. open stone was a great show once again with Kiener pulling ahead in his final putt to secure his first win with a distance of 47' 11", followed by Brown at 46' 3" and Anthony at 45'.

Anthony kicked it up a gear in the 56-lb. weight for distance with a throw of 35' 7". Heaton took second at 34' 3" and Kiener third at 32' 5".
 
The 28-lb. light weight for distance was another zinger of a battle between Anthony and Heaton, with Anthony snatching the win with his last throw of 68' 11", leaving Heaton in second at 67' 10". Brown took third at 64' 8".

Anthony continued to turn up the heat in the 16-lb. hammer, with escalating throws for the win at 127' 3", again a personal best. Second place was close between Brown and Clinker, with Brown prevailing at 118' 2" to Clinker's 117' 10".

In the 22-lb. hammer Anthony opened up with a distance of 94' 8" for back-to-back wins in the hammers. Clinker was second at 91' 6" and Heaton third with 88" 4".

The 56-lb. weight over bar ended in a pileup, with Burns, Kiener, Brown and Clinker all clearing 15' but on countback, Burns was first, Kiener second, and Clinker in third.
 
The caber, at 20' 1" and 135-lb., was a brute, not much taper and a real challenge, with only degrees being scored. The best attempt went to Heaton at 57 degrees, with Brown at 55 and Kiener at 53.
 
In the final event, the 20-lb. sheaf over bar, Anthony was in a realm of his own, clearing every height with ease and finishing at 30'. Second was Clinker at 26' and third Brown at 24'.
 
Final points:
1. John Anthony         18
2. Eddie Brown          31
3. Andrew Heaton      33.5
4. Eli Kiener             34.5
5. Anthony Clinker     37
6. Sean Burns            44
7. Jacob Nichol           54
 
Winner John Anthony had already qualified for the IHGF All-American Championships at last weekend's games in Wichita, along with Skylar Arneson, so Brown and Heaton will join the lineup at the championships in mid-September.
 
Kari Livingston, the athletic director of the Las Vegas Games, did an outstanding job in marketing the games and boosting spectator attendance, and also giving special treatment to all 108 athletes over the two days of competition. Another highlight, Jarvina Routt broke the lightweight women's world record in the light weight for distance with a throw of 69' 7".
 
The third leg of the IHGF All-American qualifying series will be held in Prescott, Arizona 13–14 May, with spots still open for A group athletes.  




                                                       ###



You can also follow IronMind on Twitter, Instagram and on Facebook.                        



Want to talk grip, strongman, weightlifting . . . everything strength? Visit the IronMind Forum.