Highland Games: Greg Hadley Off-Season Training
Francis Brebner caught up with top Canadian Highland Games competitor Greg Hadley and filed this report with IronMind®.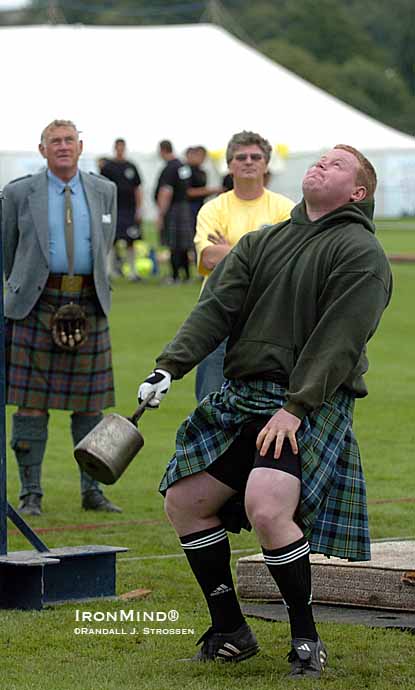 Five-time Canadian national champion Greg Hadley on the 56-lb. weight for height at the 2007 World Highland Games Championships (Inverness, Scotland). IronMind® | Randall J. Strossen photo.


Greg Hadley Off-Season Training
by Francis Brebner

Coming off his most successful heavy events season to date, I asked Greg Hadley what are his plans for off-season training:

"I've entered the 2009/2010 off-season with a level of focus I've never encountered before. My off-season effectively began in early September after competing in small Games here in Nova Scotia. As usual, I took 3 to 4 weeks off any physical activity to allow my body to rest after a demanding season of 21 competitions.

"In early October I began my conditioning phase, something I started last year. This details a good deal of high-intensity training to shed unnecessary body fat and prepare my body for upcoming heavy lifting. I was able to trim down to 266 lb., a good starting point as I usually put on 10 lb. during the course of the off-season. As October came to a close, I began shifting to heavier lifting and can effectively say I am stronger than I was at this point last year, a very encouraging reality.

"My lifting routine is complimented with weekly plyometric workouts and indoor throwing sessions. This has been a great help as I work to improve my technique in my weaker events."

Do you ever switch up your routine, Greg?

"Yes, I do; as we move through the winter I'll be switching up my lifting routine every 3-1/2 to 4 weeks with the goal of hitting new personal records on a consistent basis. I'll begin slowly tapering things down as the winter fades away here in the Great White North, and I can get outside and begin training with the Highland Games implements.

"My 2010 competition schedule is not finalized, but I can confirm I will not be traveling to Scotland. Highlights promise to be the 2010 IHGF World Championships in beautiful Victoria, British Columbia. I know all involved, especially Carl Jensen, have been working very hard to make this a memorable event. I also plan to compete at an All-Canadian invitational at my hometown games of Antigonish as well at the CSAF Canadian Championship in Calgary, Alberta."

What goals are you focusing on for the future, Greg?

"My major goals in 2010 will be to retain my Canadian title for the sixth time, something that promises to be very difficult as great throwers like Lyle Barron, Jason Johnston and Matt Doherty continue to improve. I also have a big goal to continue to move up in the international rankings."

Most of Greg Hadley's off-season training will appear on his YouTube channel.