Highland Games: Dan Tennison Wins in Wichita, Qualifies for IHGF All-American Championships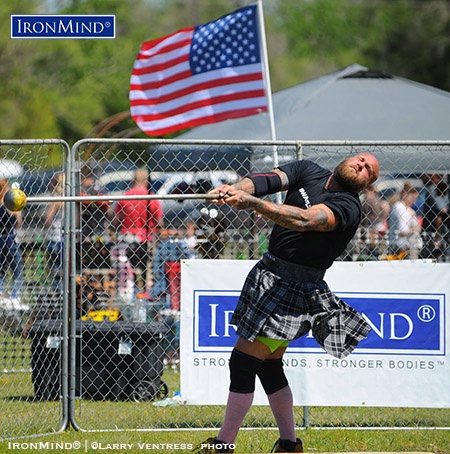 The competition in round two of the IHGF All-American Series was hot and heavy, and when the dust had settled, two more athletes had earned invitations to the 2016 IHGF All-American Highland Games Championships.




2016 Wichita Highland Games & Celtic Festival
by Francis Brebner
International Highland Games Federation (IHGF)


In an electrifying second leg of the IHGF All-American series, nine hungry and energetic contenders went all out at the 2016 Wichita Highland Games &
Celtic Festival to earn a place in the finals of the IHGF All-American Highland Games Championships. The athletes included Ryan Huddleston, Daniel
Tennison, Kevin Becker, Jon Hereth, Dirk Myers, James Gilmer, Eddie Johnson, Mike Golay, and Shane Thomas.  

The competition got underway with the 22-lb. Braemar stone, and all athletes looked on fire.  Tennison was a favorite, with his background in the shot
put and puts over 57' to his credit. He ruled with an impressive series of throws, his best being 39' 11" for the win and a new field record. Second place was a scrimmage, with Gilmer pulling out 36' 2" to go ahead of Hereth
at 35' 7".

Tennison reigned supreme in the 16-lb. open stone, the only athlete to surpass the 50' barrier with a best of 53' and a second field record. Hereth followed with 45' 7", with Gilmer in third at 44' 10".

In the 56-lb. heavy weight-for-distance, Tennison upped the ante each round, finishing off with 42' 4" and his third successive field record.  Second place was Gilmer at 35' 9", and third place, Johnson with 32' 5".  

In the 28-lb. light weight-for-distance, Becker took an early lead and looked as if he had the victory right up until Tennison's last throw, which surpassed Becker's by well over a meter at a distance of 83' 10" and a fourth field record. Becker took second at 79' 7", with Gilmer in third at 70'.

In the 16-lb. light hammer, Becker breathed fire, unleashing a blaze of throws all over 115' to finish with a best of 119' 7" for the win and a new field record. In close second was Gilmer with 117 '4", with Tennison third with 115' 1".

Tennison dug deep in the 22-lb. heavy hammer and lobbed throws all over 90', with a best of 99' 9" for his fifth win of the competition and yet another
field record. Johnson followed at 93' with Becker third at 91' 3".


In the 56-lb. weight-over-bar Tennison was impressive in action, making it look so easy and winning at 17', his sixth field record of the competition.
He went straight to 18' 1" to attempt the amateur world record and came so close to clearing. Second went to Becker at a height of 16' and third to
Gilmer at 15'.

The caber toss, at 16' 7" and 115 lb., was dominated by Myers, who nailed a 12 o'clock toss for the win. Tennison was second with 12:15 and Becker third
at 11:45.

After two competitions in the IHGF All-American series, Eddie Brown, James Gilmer, Dan Tennison, and Eddie Johnson have qualified for the IHGF
All-American Championships at the McPherson Highland Games in September 2016.

Overall points
1. Dan Tennison    11
2. James Gilmer     25
3. Kevin Becker    29
4. Eddie Johnson     34.5
5. Jon Hereth        35
6. Dirk Myers        42.5
7. Mike Golay        57
8. Ryan Huddleston    62
9. Shane Tomas    64

Athletic director Dave Glasgow deemed the games a huge success, noting that this was the most athletes to have competed to date and it was great to see
the young talent coming into the sport and making their way through the amateur ranks. 



The next qualifying games in the IHGF All-American series is the Kansas City Scottish Highland Games & Celtic Festival, 11-12 June 2016. 

                                                       ###

You can also follow IronMind on Twitter and on Facebook.                       

Want to talk grip, strongman, weightlifting . . . everything strength? Visit the IronMind Forum.