Harri Tolonen Breaks IronMind Pinch Grip Block World Record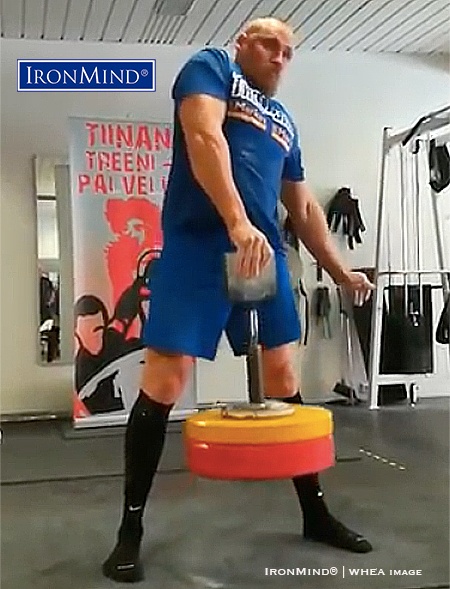 Last year, Harri Tolonen (Finland) broke the world record for the IronMind Blockbuster Pinch Grip Block not once, but twice in one contest, and this weekend, he did the same thing again.

Competing at the WHEA SAWO Open Grip Championships at Tiinan Treenipalvelu in Ilsalmi, Finland, "The man of the day was Finland´s Harri Tolonen, who edged out the reigning world champion Jesse Pynnönen (2nd) and Norway´s Thomas Larsen (3rd) in the open-class battle," Jyrki Rantanen reported to IronMind.

Below the overall points for top 8 and the class winners:

Men Overall Top 8
1. Harri Tolonen 11
2. Jesse Pynnönen 14 

3. Thomas Larsen 17

4. Jouni Mähönen 21 

5. Arto Joronen 22 

6. Niko Junnilainen 26,5 

7. Miika Lappalainen 32 

8. Tuomo Kärkkäinen 33,5 



Men
-93kg 1. Jouni Mähönen
+93kg, Harri Tolonen

Women
Anu Rytkönen

"In the individual events, we witnessed new world record for the IronMind Blockbuster Pinch Grip Block as Harri Tolonen first smoked 50,18kg good lift and then asked for more and nailed 51,40kg as [another] new world record!

"Other remarkable results were 40kg on the IronMind Hub (Tolonen/Mähönen),and 100kg (Larsen) and 102,5kg (Pynnönen) at IronMind Little Big Horn along, as well as 3 guys making times on the CoC Silver Bullet using a Captains of Crush No. 4 gripper, plus and Jouni Mähönen topping 48,76 sec with the Captains of Crush No. 3 gripper directly after an attempt with Captains of Crush No. 3 gripper.

"Women also provided good results with some national records and new athletes getting spots to US World Grip Championships in October," said Rantanen.

                                               ###



You can also follow IronMind on Twitter, Instagram and on Facebook.                        



Want to talk grip, strongman, weightlifting . . . everything strength? Visit the IronMind Forum.