He's an Olympic champion, world champion, world record holder, Mr. Universe - one of the greatest weightlifters of all time - and California Governor Arnold Schwarzenegger said that when he was young, Tommy Kono was his inspiration.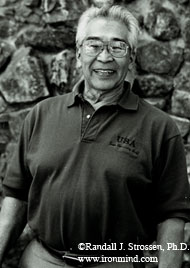 A few years ago, Tommy and his brother Mike honored IronMind® with a visit. "I wanted to be studly like Tommy, so strong and so muscular," declared California Governor Arnold Schwarzenegger when he saw Tommy at the 2004 Arnold Fitness Weekend. IronMind® | Randall J. Strossen, Ph.D. photo.
Keeping busy as he collects one honor after another, Tommy Kono remains active in the sport: In addition to leading seminars, he is the author of the book Weightlifting, Olympic Style and his recently-launched TK knee bands have proven to be very popular.

Happy 75th birthday, Tommy!