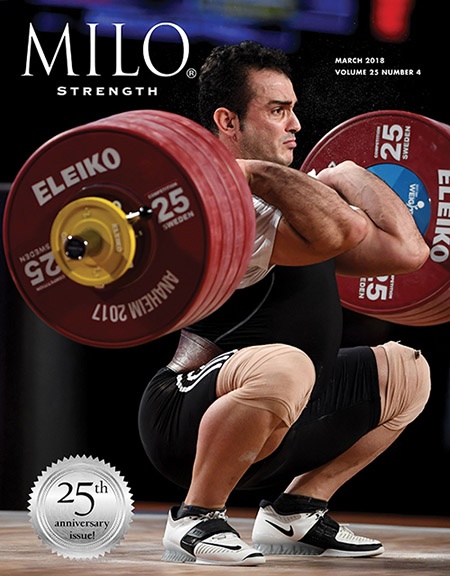 MILO celebrates a quarter of century of strength and doing honors on the cover is Sohrab Moradi.

"Forget the movie-star good looks and the near-arrogance of an emperor, and check out the modest guy who looks like he could be your plumber—in the case of Sohrab Moradi (Iran), you can decide which camp you'd put him in, but first let's talk about his lifting in the 94-kg class at the 2017 World Weightlifting Championships (Anaheim, California). After opening with 176 kg and practically power snatching it, he went a bit lower as he hit 182 kg, followed by 184 kg. Nice lifting and good for the gold medal in the snatch, but now it's showtime as he opened with 220 kg in the clean and jerk, and if it seemed routine, maybe that explains why he jumped to 233 kg on his second attempt. He crushed it, breaking Szymon Kolecki's world record of 232 kg set at the 2000 European Weightlifting Championships, and smashing his own world record in the total by a full four kilos. I wonder what Moradi's going to lift when he pushes himself?!" Randall J. Strossen photo.
MILO's 25th anniversary edition, celebrating a quarter of a century covering the strength world: reports of record, training, people . . . the information and inspiration to keep you informed and ready for your next round of records—personal, world or Olympic. Weightlifting, strongman, grip, Highland games, stonelifting . . . .available now.

For the table of contents and to order a copy, please follow this link to MILO 25-4.


                                                ###



You can also follow IronMind on Twitter, Instagram and on Facebook.                        



Want to talk grip, strongman, weightlifting . . . everything strength? Visit the IronMind Forum.