Hannes Kainz Hits a Big Double: Captains of Crush No. 3 Gripper and IronMind Red Nail Certifications
If you've got the power, you don't have to waste time and that's the case with Hannes Kainz, who has just been certified on the Captains of Crush® No. 3 Gripper and IronMind Red Nai™l as he successfully met both challenges, back to back, in an impressive display of lower arm strength.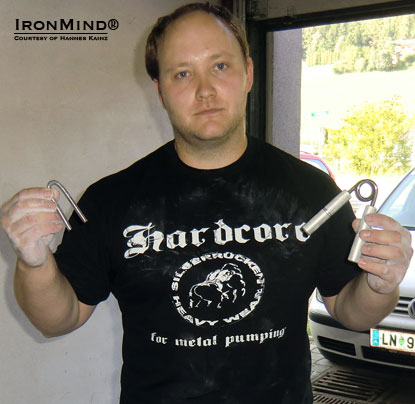 Doubling up, Hannes Kainz is the first man in the world to certify IronMind Captains of Crush® No. 3 Gripper and on the IronMind Red Nail on the same day. Hannes stands 1.75 m (5' 9") tall and weighs 110 kg (242 lb.) IronMind® | Photo courtesy of Martin Ziegler.


The 31-year old Austrian is an engineer by profession, has been climbing for 15 years and training his grip three times a week for 10 months; plus he said, "I love Highland Games and I try it whenever I can."

Off to a roaring start, Hannes told IronMind, "I spend my next time on the CoC3.5, but it will take a few months ;-)) ."

Many thanks to Hannes Kainz's referee, Martin Ziegler, who not only did double duty in that department, but also very kindly jumped in and sent IronMind the official referee's form not once, not twice, but three times, as we tried to cut down the processing time before making it official: Congratulations, Hannes, your name has been added the official certification list for the Captains of Crush No. 3 gripper and to the Red Nail Roster. Nice work!

###

The IronMind Forum: discuss this article, talk strength, get help with your training.

You can also follow IronMind on Twitter.