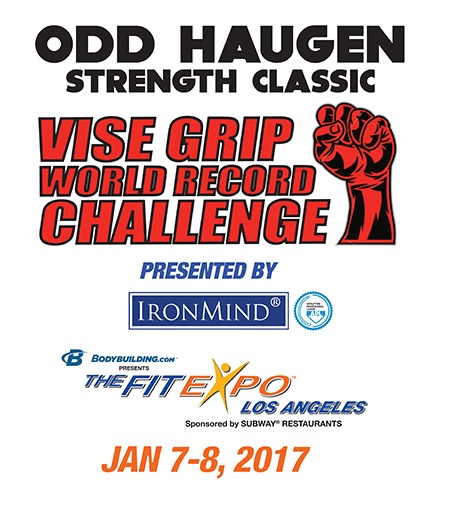 Odd Haugen has been lifting weights for over half a century and is quick to recognize the type of strength that impresses him the most.

Of course, there's big weights on basic lifts, but then there's strongman, where "you really find out who's got pure strength," said Haugen, which we'll take to mean the ability to handle heavy odd objects, sometime once and sometimes repetitively. And then there's the strongman combat concept he debuted at the 2013 Los Angeles FitExpo—think pole push, tug of war and mas wrestling, especially.

But for Haugen, it all starts with the hands and that's why he's long put his 300 lb. (138 kg) frame solidly behind such benchmark tests of grip strength as the Rolling Thunder, Apollon's Axle Double Overhand Deadlift and the CoC (Captains of Crush) Silver Bullet.

Haugen was a natural to go to Moscow a few years ago for the Armlifting World Championships, where, among others, he met Russian martial artist and media star Sergey Badyuk, president of the APL (Armlifting Professional League).

Haugen was both an athlete and ambassador, and speaking of foreign exchange, traffic across the Atlantic has been in both directions as top Russian grip guys have been coming to Haugen's grip contests for several years, producing some leading performances, proving themselves popular with the crowd, and enjoying a chance to visit California—last year, Roman Penkovksy tooled around West LA in a red Camaro he had rented.

IronMind, as the company that developed its signature grip equipment that is known worldwide, was at the forefront of both Haugen's grip contests and the sport of armlifting, so it's been a natural evolution to bring the two parties ever closer together: IronMind and Haugen combined efforts this year to officially recognize APL as a supporting organization at Haugen's grip contest at the 2017 Los Angeles FitExpo.

APL spokeman Dmitriy Suhovarov told IronMind, "We are honored to be a part of the legendary Odd Haugen grip contests. Step-by-step, day-by-day, year-by-year we are working for cooperation: making IronMind even more popular in Russia and surrounding countries; making APL armlifting a more massive and professional sport worldwide.

"So, today, we have a very important step with the APL officially being a part of this legendary competition—many thanks, Randall Strossen and Odd Haugen, for trusting us and providing this opportunity.

"We look forward to working together for many years in future!," said Suhovarov.

Suhovarov, by the way, is not mere administrator—he's also the current world record holder on the CoC (Captains of Crush) Silver Bullet, and hopes to be competing at next year's Viking Visegrip World Record Challenge.

                                     ###



You can also follow IronMind on Twitter and on Facebook.                        



Want to talk grip, strongman, weightlifting . . . everything strength? Visit the IronMind Forum.