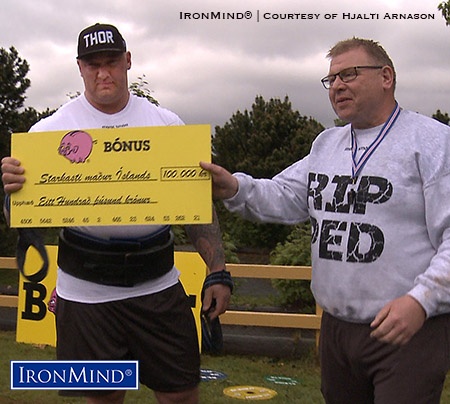 "Hafþór Júlíus Björnsson won the Iceland's Strongest Man for the 8th time," Halti Arnason reported to IronMind today.

He flew in by private jet and picked up his eighth Iceland's Strongest Man title, so the way we figure it, Hafthor = 8 x ISM. IronMind® | Photo courtesy of Hjalti Arnason

"Hafþór was in Belfast, Ireland for Game of Thrones production, and he arrived on a private jet at the Reykjavík airport just before the contest started.

"Hafþór won 6 of 8 events: Weight for height, Atlas Stones, Log lift, Forward hold, Deadlift, Circus dumbell. The orginal Husafellstone, Farmers walk and sand bag carrying were the other events [at the 2018 Iceland's Strongest Man contest].

1. Hafþór Júlus Björsson        77.5 points
2. Eyþór Ingólfsson Melsteð   65.5
3. Sigfús Fossdal                    60.5

"Hafþór won a US$ 1000 special prize for the deadlift, where he made a 360-kg lift.

"This makes four contest for wins in just three months: World's Strongest Man, Arnold, Europe's Strongest Man, Iceland's Strongest Man," said Arnason.

                                               ###



You can also follow IronMind on Twitter, Instagram and on Facebook.                       



Want to talk grip, strongman, weightlifting . . . everything strength? Visit the IronMind Forum.