Gunnar Pfingsten Wins the 2010 German Heavy Events Championships
The inaugural German Heavy Events (Highland Games) Championships were won by Gunnar Pfingsten, and IHGF vice president Francis Brebner has filed a contest report with IronMind®.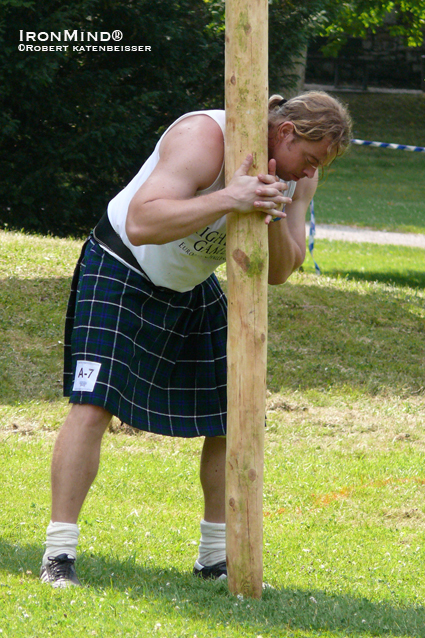 Gunnar Pfingsten, winner of the 2010 German Highland Games Championships gets ready to pick the caber. IronMind® | Robert Katenbeisser photo.


2010 German Heavy Events Championships
by Francis Brebner
On July 10 - 11, the 2010 German Heavy Events Championships was held in the picturesque town of Angelbachtal, Germany for the first time. The Games was organized by Petra und Uli Müller, the Athletic Sport Association of Ludwigsburg-Oßweil, together with the MacManiacs from Angelbachtal. The local association is part of the German Federation run by Manfred Mühlenhaus and Dr. Claus Dethloff, president and vice president of the Deutscher Highland Games Verband, which is also affiliated with the IHGF.

A total of ten athletes competed for the German Heavy Events Championships title; unfortunately, Markus Vortriede missed the competition due to injury. 



In the 16-lb. open stone it was a real tussle between Gunnar Pfingsten and Andreas Deuschle, with the lead changing several times. Eventually Pfingsten won with a put of 53' 4-3/4", with Deuschle in second place at 50' 7-1/2" and David Frey in third place at 45' 11".


Next up was the 28-lb. Braemar stone and again there was a very close contest between Pfingsten and Deuschle, with the victory once more going to Pfingsten with a put of 34' 8". Deuschle finished in second place with 33' 5" and Frey was in third place once more with a respectable distance of 31' 3".

The 28-lb. weight for distance saw Pfingsten notch up his third straight win and establish a new German national record in the process with a distance of 81' 4". Frey came in second with a throw of 73' 6", and in third place was the very talented 21-year-old Benedikt Tillemans at 66' 3".



In the 56-lb. weight for distance, it was Frey this time who showed a clear win with a distance of 36' 2-1/2"—almost 6' over Pfingsten, who placed second at 30' 5". Tillemans finished in third place at 29' 5".
 
Moving on to the 16-lb. hammer, the competition proved very thrilling for the many German fans watching as German hammer record-holder Tillemans established a new German national record of 123' 2". Pfingsten came in second with 117' 5" and Austrian Martin Schiller finished third with 115' 7".
 


The next event was the 22-lb. heavy hammer, and once again Tillemans was on form, establishing his second German national record with a fantastic distance of 104' 6". Schiller placed second at 90' 7" and Pfingsten placed third at 90' 2".

In the 56-lb. weight over the bar, Pfingsten was back on top with his fourth win of the Games at a height of 13' 8". Frey and Deuschle tied for second place at 13' 1".

The caber toss was the final event and it was won by Frey with the only successful 12 o'clock toss; Tillemans finished in second place and Pfingsten in third.



Overall points:
| | | |
| --- | --- | --- |
| 1. | Gunnar Pfingsten | 74.0 |
| 2. | David Frey | 67.5 |
| 3. | Benedikt Tillemans | 60.5 |
| 4. | Andreas Deuschle | 52.5 |
| 5. | Martin Schiller | 51.5 |
| 6. | Holger Karch, Uli Mueller (tie) | 35.0 |
| 8. | Alf Gasnik | 25.5 |
| 9. | Alex Dissel | 23.0 |
| 10. | Arno Rumpel | 15.5 |
Both Manfred and Claus were very happy with the lineup of top A-division contenders who battled it out for the German Heavy Events Championships title and also to see new national records being established. Asking Manfred about Highland Games in Germany, he said, "For a start we had three Games. This has now grown to 14 to 15 official Games and is still rapidly growing. The future of Highland Games is looking very good here in Germany and for the new breed of German athletes that is coming into the sport.
 


"Several national records were established for Germany as we saw the quality and standards rise from the top Highland Games A-group athletes, a clear sign of what is to come in the near future.
 "It will be fantastic to see some of our top athletes compete in next year's IHGF World Amateur Heavy Events Championships in Spokane, Washington, USA."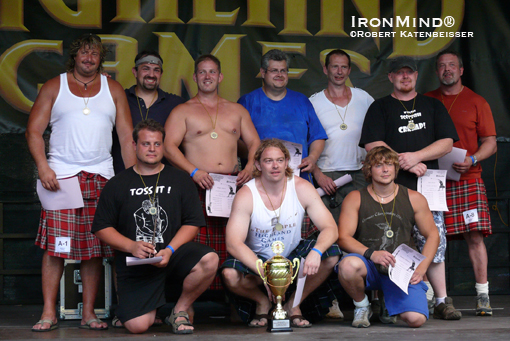 Here's the field from the 2010 German Highland Games Championships. IronMind® | Robert Katenbeisser photo.





Want to talk strength? Join the IronMind® Forum!

You can also follow IronMind® on Twitter.