Guinness Record Holder in SCL Canary Islands
"Ervin Katona, the new Guinness record holder of the yoke race with a 300-kg barbell and the overall SCL leader, will compete in the Strongman Champions League (SCL) Canary Islands this coming weekend," SCL cofounder Marcel Mostert told IronMind.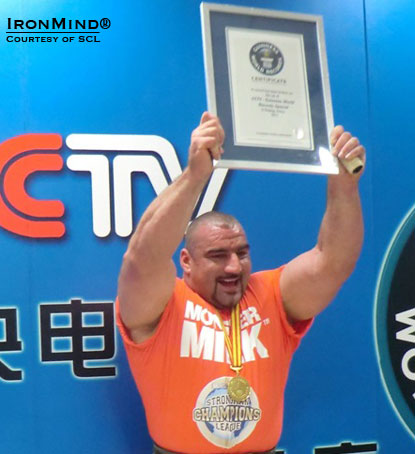 Ervin Katona set a new Guinness world record in the yoke race in China. IronMind® | Courtesy of SCL.


"He just came back from China, where he blasted the record from Agris Kazelniks, set in Milan 2009.

"Agris and Zydrunas had this record, running with a 300-kg barbell, standing at 10.2 seconds. This is more difficult than a normal yoke race, because a barbell is jumping on your neck when you run with it. Jarno Hams had the world record for five minutes, Mostert said, as "He ran the 25 meters in 8.7 seconds, but Ervin set a new the record with 8.2 seconds."

This coming Saturday is the 8th stage of the Strongman Champions League, set for Las Palmas. Ervin Katona, Jarno Hams, Tommi Lotta and eight more competitors will be part of "the first ever SCL competition in the Canary Islands," said Mostert, where the events will be truck pull, rock lift, tire flip, deadlift, loading and front hold.

###

The IronMind Forum: discuss this article, talk strength, get help with your training.

You can also follow IronMind on Twitter.