Grip Strength Goes Clubbing in Finland
Adding a new twist to his grip contests, Jyrki Rantanen told IronMind that his, "2014 grip year has started with Ironmind Grip nationals in Finland and the competition was held in the nightclub of Seurahuone in Huittinen city.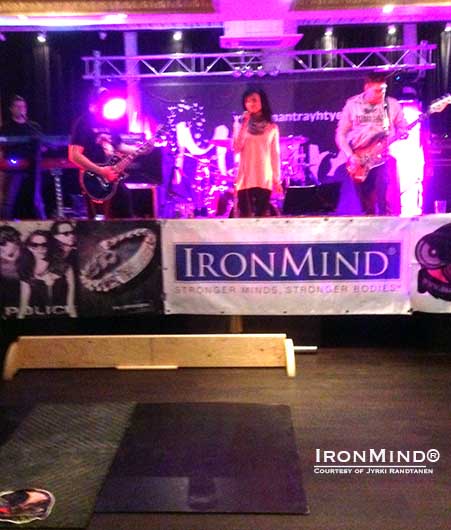 Jyrki Rantantan decided to take grip contests clubbing in Finland. IronMind® | Photo courtesy of Jyrki Rantanen


"The competition included Rolling Thunder, Apollon´s Axle, (Captains of Crush/CoC) Silver Bullet and the event we introduced in the last IronMind Grip Classic: The Hub walk, which makes the grip event more moving and spectator friendly and also even one could think it is just same as farmers walk in strongmen…it is not..you do need totally specific Hub training to do well in this event.

"Along with the IronMind Grip nationals we had Welcome to MAS happening, where people had the opportunity for the first time to test max wrestling in Finland…more serious competitions in it is also coming during the spring here.

"A few waited names were missing from the scene due last minute duty calls, but we saw some newcomers doing very well along with nearly success in national record attempt by Jaana Tanner, who narrowly took the overall win in women´s class," said Rantanen.
If you missed the fun in person, here are a couple of links to some photos:
https://www.facebook.com/media/set/?set=a.625136757560037.1073741835.205418842865166&type=1

https://www.facebook.com/media/set/?set=a.797589320270460.1073741837.310392368990160&type=1

###

Want to talk strength? Join the IronMind Forum.

You can also follow IronMind on Twitter and on Facebook.