Last year, Steve Belanger invited a bunch of guys over to his Los Angeles-area home to squeeze grippers, bend steel and do a Rolling Thunder tug of war, among other fun things.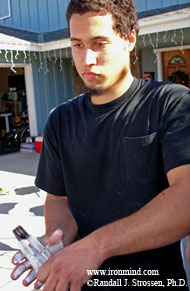 Then 18-years old, Kevin Bussi eyes his No. 3 Captains of Crush® Gripper just before he nailed it, en route to becoming one of the youngest people ever certified on this benchmark feat of grip strength - just so you know the kind of history that has been made in Belanger family driveway. IronMind® | Randall J. Strossen, Ph.D. photo.
Steve, who really does this right, has scheduled the encore for December 10, and as he put it, "It's for any grippers and benders, at any level to come and have a good time meeting others with the same interests. Not really a contest but there will be some competing for the fun of it. Best of all it's free. If interested contact me at bigsteve057@hotmail.com."

Incidentally, rumor has it that Pavel Tsatsouline, the man who put kettlebells on the map, and his ace instructor Brett Jones, might be there, with both gentlemen ready to take a crack at getting certified on the No. 3 Captains of Crush® Gripper - if this happens, our money is on Pavel and Brett to succeed.