Grikurovi: Georgian Team Ready
Ivane Grikurovi, the Georgian National Weightlifting Coach, told IronMind today that his team's preparation for the upcoming World Weightlifting Championships is going well.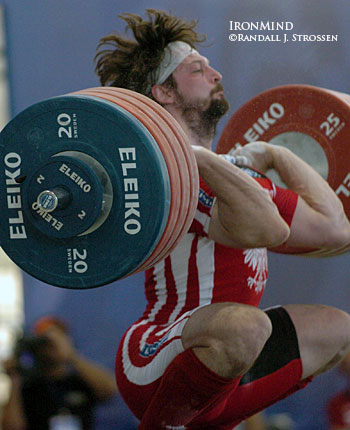 Polish star Szymon Kolecki had to bounce a couple of times before being able to recover with this 219 kg clean in the 94-kg category, but once he stood up with it, he put away the jerk at the 2006 World Weightlifting Championships (Santo Domingo, Dominican Republic). IronMind® | Randall J. Strossen, Ph.D. photo.

"Everything is going according to plan," Grikurovi said. "Arsen [Kasabiev] is healthy and is getting back to his normal condition. [Georgi] Asanidze is training hard to help the team . . . he is not the same Asanidze as a few years ago, but he will make a big contribution to the team."

The 2007 World Weightlifting Championships is an Olympic qualifier, and results there will determine eligibility for the Beijing Olympics.

Although Ivane Grikurovi no longer has direct coaching responsibilities for Polish star Szymon Kolecki, the two remain close friends and talk regularly, Grikurovi said.

Asked whether he thought the 94-kg class at the Beijing Olympics would end up being a three-horse race between Szymon Kolecki, Ilya Ilin and Arsen Kasabiev, Grikurovi said, "So far, it will be between Szymon and Ilya . . . ."