Gregor Edmunds Wins the 2010 Braemar Highland Games
It's considered the crown jewel of the Highland Games circuit, where British royalty watch the giants of the Highland Games heavy events toss around sticks and stones for sport and glory - Gregor Edmunds came from behind in the last event to claim his second title on this hallowed ground.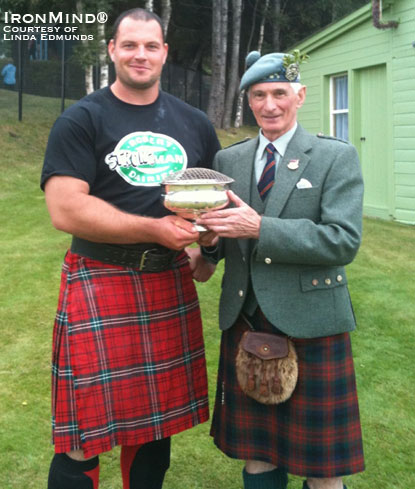 Pictured with the Convenor of the Braemar Highland Games, Gregor Edmunds (left) upheld the pride of Scotland as he won this most coveted heavy events title, his second victory at Braemar. IronMind® | Photo courtesy of Linda Edmunds.


2010 Braemar Gathering

by Colin Bryce

An estimated 14,000 filled the Princess Royal and Duke of Fife Memorial Park at the weekend for a feast of music, dance and heavyweight sport in Braemar, Scotland. Since Victorian times the Braemar Gathering would not be the occasion it is without a royal presence. The Queen and the Duke of Edinburgh once again showed their support for the prestigious occasion as they entered the heather-clad pavilion to warm applause.

Those expecting to see the new prime minister on his first visit to Braemar were disappointed: David Cameron, who is still on paternity leave following the birth of his daughter, decided to stay in London.

As is fitting of the world's most prestigious Highland Games, the "heavies" contest had all of Europe's best. It was Glasgow athlete Gregor Edmunds who managed to maintain national pride by beating the trio of top international Polish athletes who have been causing devastation on the Scottish Highland Games circuit this summer.

In front of a crowd of approximately 20,000 people Edmunds won the overall Heavy Events Championship by one point from Sebastian Wenta of Poland, who was hoping to retain his title.

The new Polish superstar of the Games, Dominic Zahlinski, had to accept third place, and the younger brother of Sebastian, Lukasz Wenta, took fourth.

There were other very good performances from the Scots as Bruce Aitken of Auchenblae won the hammer events and Bruce Robb won the Challenge Caber by a narrow margin from Gregor Edmunds.

Edmunds now heads to South Africa to take up his place as equipment manager and assistant referee at the World Strongest Man finals.

One notable absentee from Braemar was Scott Rider of England, who has turned his sights on a new crown. The British shot putter pulled out all the stops on the very last day of the Commonwealth Games qualifying period to nail a 18.95 m throw at the Bedford International Games and take his rightful place at this major championships. He travels to New Dehli in India at the end of September.

###

Want to talk strength? Join the IronMind Forum!

You can also follow IronMind on Twitter.