Gregor Edmunds Leads the European Highland Games Championships
Set in picturesque Bressuire, France, the 2009 European Highland Games Championships began yesterday and Gregor Edmunds is in the lead.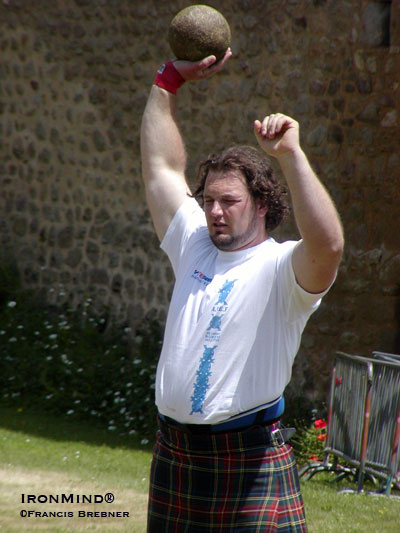 Gregor Edmunds on the 16-lb. stone. IronMind® | Francis Brebner photo.


Francis Brebner filed this special report for IronMind®.

2009 European Highland Games Championships - Day 1
by Francis Brebner

The European Highland Games Championships in Bressuire, France got off to a great start for our heavy athletes as a blue sky and a gold sun shone upon them.

A special reception service was laid in honor to welcome the athletes to Bressuire, which was held by the organizing committee and the mayor of Bressuire and attended by press, radio and local TV in the lovely grounds of the Bressuire town house.

Afterward the athletes made their way to the Bressuire Castle, where a banquet was laid out for these monster men before they prepared for the afternoon's battle.

After the opening ceremonies were done by the town mayor, our heavy athletes got under way with the first event of the European Championships, which was the 16-lb. open stone.

It was a very close competition between Gregor Edmunds of Scotland and Hans Lolkema of Holland with Gregor taking the first win with a put of 48' 8". In second was Hans Lolkema with 46' 10" and in third was Scotland's Craig Sinclair with a putt of 43' 5".

In the following event, the 22-lb. hammer, it was Craig Sinclair who snatched the win from Edmunds on his last throw with a distance of 113' 8". In second was Edmunds with 107' 3" and in third was Hans Lolkema with a distance 102' 5".

In the 56-lb. weight for distance, Hans Lolkema, with on his last attempt, overtook Edmunds with a distance of 36' 8". Second was Edmunds with 34' 6" and in third was Sinclair with 33' 3".

The final event of the day, which was non-scoring for the overall, this entailed throwing a 56-lb. beer barrel over the bar. Hans Lolkema won this event with a height of 15' 8" and came very close on extra attempts to setting a new ground record.

Overall points after day one were as follows:

1. Gregor Edmunds (Scotland) 5 points
2. Hans Lolkema (Holland) 6 points
3. Craig Sinclair (Scotland) 7 points
4. Tommy de Bruyn (Belgium) 12 points
5. Stephen King (Scotland) 17 points
6. Craig Smith (Scotland) 19 points
7. Anthony Lordi (Switzerland) 21 points
8. Audunn Jonsson (Iceland) 8 points
9. Geir Standal (Norway) 26 points

Final events today will include 22-lb. Bremaer stone, 16-lb. hammer, 28-lb. weight for distance, caber and weight over the bar.