Greg Hadley Wins the 2009 Halifax Highland Games
Competing on Saturday at the Halifax Highland Games, Team Canada tuned up the for the International Highland Games Federation (IHGF) World Team Championships.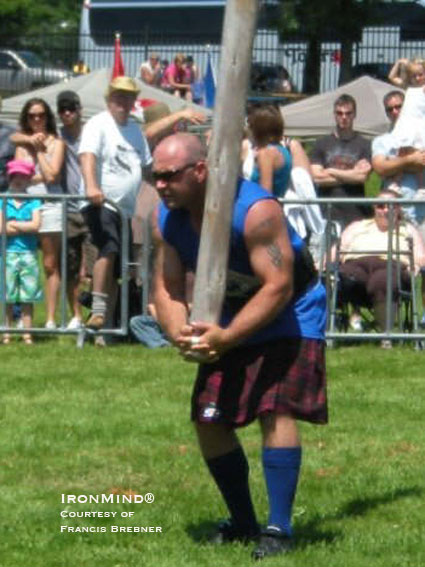 Lyle Barron on the caber at the 45th Halifax Highland Games. IronMind® | Photo courtesy of Francis Brebner.

2009 Halifax Highland Games
Reported by Francis Brebner

In the last major tune-up before the first-ever IHGF World Team Championships in Antigonish, Nova Scotia, Team Canada took the field at the 45th Halifax Highland Games on June 11. Team Canada's Greg Hadley, Matt Doherty, Lyle Barron and Dirk Bishop shared the field with 5 other Eastern Canadian athletes in hopes of working out any last minute kinks ahead of the big show in Antigonish.

Things got started with a bang in the 23-lb. Braemar stone. Greg Hadley took the win with a field record of 40' 6"; second was Matt Doherty at 39' 6", and third was Lyle Barron at 38' 4".

The open stone, 17.1 lb., was a similar story. This time it was Doherty who hit a field record at 52' 7". Hadley went 48'11" for second and Barron went 44' 7" for third.

The 56-lb. weight for distance saw several athletes hit season bests. Hadley finished first with a new Canadian record at 45' 7.5", in a series that also saw him foul a 47' 9" throw. Barron hit 40' for second, with Dirk Bishop at 37' 8" for third.

In the 28-lb. weight for distance, Hadley's season best of 83' 10" secured first place. Doherty went 76' 8" for second, with Barron in third at 75' 3".

The 22-lb. hammer was the only letdown of the day. Barron, who was coming off throwing the 16-lb hammer 140' 12 days ago, won the event with a 107' 8". Hadley and Doherty claimed second and third at 103' and 99' 10", respectively. All athletes were looking for more.

The caber toss was an old-fashioned shoot-out, with an implement standing 21' 6" and weighing a light 100 lb. Hadley, Barron and Bishop all secured 12:00 throws and finished in that order.

The 56-lb. weight for height was the last event of the day. In a thrilling contest, Doherty cleared 17' on a tie-breaker throw for first place, bringing the Halifax crowd of 1,000 to its feet. Danny Frame, also from Nova Scotia and a true up-and-comer, took three valiant attempts at 17' but was just short. His 16' snagged him second. Lyle Barron claimed third.

All IHGF athletes will arrive in Antigonish this Wednesday, July 15, for several days of fan activities, sightseeing, and good old-fashioned maritime hospitality.
Here are the top three overall:
1. Greg Hadley 23 points
2. Lyle Barron 29
3. Matt Doherty 31