Greg Hadley Wins Georgetown Highland Games, Larry Brock Adds Another Title at the Kansas Highland Games
Top Highland Games competitors were active this weekend - following are summaries from the Georgetown Highland Games and from the Kansas Highland Games.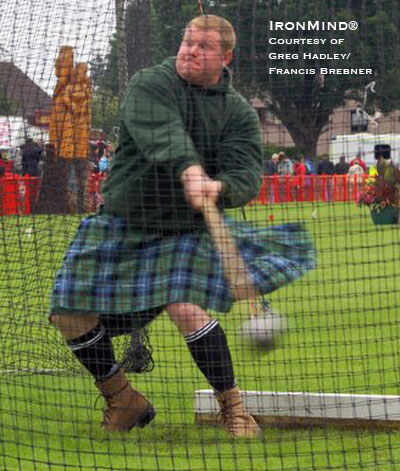 Greg Hadley won the Georgetown (Canada) Highland Games over the weekend. IronMind® | Photo courtesy of Greg Hadley/Francis Brebner.

Francis Brebner filed this report for IronMind®:

The Georgetown Highland Games (Toronto, Canada) has been running a heavy events competition for the past 20 years and always attracts the top Canadians, combined with one or two top Americans.

This year's field included Greg Hadley, the current Canadian champion, along with top Americans Will Barron and Mark Valenti, plus Canadians Christopher Wand, Markus Wand, Warren Trask and Neil Lowry.

Hadley produced three personal bests at the Georgetown Games, the first being on the 17.8-lb. open stone. Hadley had set this record back in 2006, with a putt of 47' 3", and added nearly a foot this weekend, with a throw of 48' 6", for a new games field record.

In the 56-lb. weight for distance, the Canadian record had been set by the nine-time Canadian national champion Harry MacDonald in 2000, with a distance of 45' 3". Hadley just barely skimmed the old record, with a throw of 45' 4", to establish a new Canadian record by just one inch.

But that was not the end of Hadley's quest in setting Canadian records, as in the 22-lb. hammer, with a throw of 116' 4", Hadley came up just short of the Canadian record of 116' 7", which is held by four-time Canadian champion Doug MacDonald.

Just to mention it, Hadley also had a throw of 135' 8" with the 16-lb. hammer; he had 75' even in the 28-lb. weight for distance; and in the caber, which was 21' long and weighed 120 lb., Hadley scored a 11:45 . . . which was good for first place.

"In the 56-lb. weight for height, I could only manage a height of 14'," Hadley said. "I took it easy on this one, as I am coming off a back injury sustained in the IHGF Texas World Highland Games last weekend."

Asking Hadley how he felt about his overall performance, he added, "I was thrilled with my performance. In the last few years I've recorded multiple ground records in competition, but my confidence level was not high entering this competition, as I wasn't sure my back would hold up. But as we got started, everything felt good, and everything began coming together for me. But I must just say that Will Barron, from New York, also had a very good day - throwing the 28-lb. weight for distance 81' 9", which broke his old ground record of 80' 6", and this also established a new a new field record for him.

"'Everything is now feeling good," said Hadley, "and I am focusing all my attentions on my biggest competition of the year in Canada, the Canadian Championships, which are being held at my hometown games of Antigonish, on July 19 and 20. What a delight, as I will have the support of my home crowd."

Also this weekend, in the Kansas Highland Games, both Sean Betz and Larry Brock could be seen battling it out for the National Weight for Distance Championships.

Sean Betz won the 28-lb. weight, with a throw of 84' 9-1/2", and Larry Brock was just 1/2" behind, trailing by the narrowest of margins.

It all came down to the 56-lb. weight for distance, with Brock taking the win, with a throw of 43' 9", over Betz, who had to settle with 40' 3", for a second-place finish in the championship, as Larry Brock claimed yet another title with a win in the U.S. National Weight for Distance Championships in both (combined) weights for distance. Just to add something, Brock had one foul throw just over 47' also.

Brock said he was happy enough with his distances, as the weights being used for throwing were a bit dour to throw with.

"My next contest is the Campbell Games (Campbell, California) next week, where I will be defending my World Stone Putting Championship title, which I won last year."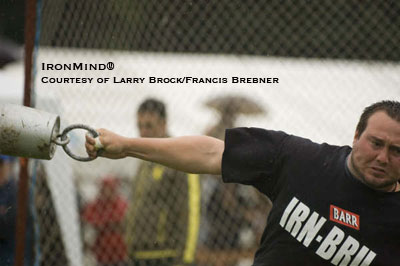 Larry Brock won the U.S. National Weight for Distance Championships this weekend. IronMind® | Photo courtesy of Larry Brock/Francis Brebner.