Glenn Ross: Strongman as a Supermarket, Strongmen as Bears
Glenn "Big Daddy" Ross is on the mend, and while he modestly said "deadlifting is coming on well . . . no weights to shout about yet, but getting there," Glenn also said that he is "looking forward to getting back to some real daddy squats and power movements."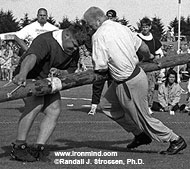 Go back a decade, land in Mintlaw, Scotland at the 1995 World Musclepower Championships, and remember the walk-on by the name of Glenn Ross - even if he couldn't compete that day, Glenn got invited to be a tester, which included the opportunity to lock horns with Nathan Jones on the Pole Push. IronMind® | Randall J. Strossen, Ph.D. photo.

Glenn Ross champions the idea that strongman is about lifting and moving heavy objects - it's the way he sees strongman of old - and he says strongman is about "fighting for every step, not running." This is the philosophy represented in the contests put on by the UK Strength Council, of which Glenn is a member. In these contests, instead of, for example, picking up a 180-kg Husafell stone from a stand and sprinting with it, a 200-kg stone would have to be lifted from the ground, before struggling forward with it.

Talking about the UK Strength Council in the context of all the competing strongman federations, Glenn uses a supermarket analogy, in that when there is competition, it is good for everyone: competition in strongman creates an opportunity for the athletes, the fans and the sponsors to end up with a better product, and the reality is a free-market situation anyway.

"Big, strong men are like bears," Glenn said. "As long as you keep feeding them honey, they will stay in their caves and stick with certain organizations, but when the honey pot runs out, they must go into the forest to look for more honey."

Besides working to bring back strongman contests with events that he sees as reflecting this make-it-heavy philosophy, Glenn is fired up about training: "I've been training for 16 years . . . it's been an onslaught," so with the break forced by his injury, Glenn is refreshed and fully motivated to "get back to full strength. I hope to be ready for my target date in March," he said.