Gil Goodman Wins King Kong Grip Contest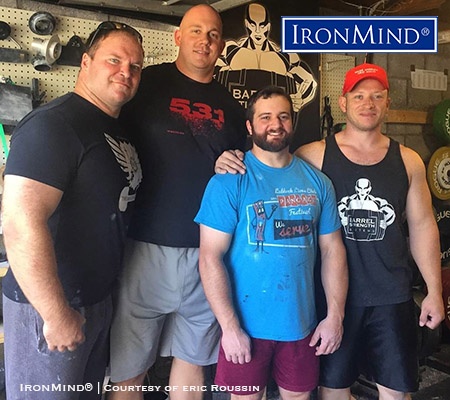 "I just wanted to pass on some information on the 4th annual International King Kong Grip Challenge which took place this past Saturday (October 29th)," Eric Roussin reported to IronMind.

"It was a mega-city contest held in 14 venues in seven countries (Russia, Ukraine, Finland, Italy, the United Kingdom, Canada, and the US). A total of 149 people took part in the contest.

"The overall winner was Tennessee's Gil Goodman, who also happens to be certified on the CoC #3 [Captains of Crush No. 3 gripper] and the Crushed to Dust Challenge.

"His accomplishment is all the more impressive considering he only weighs about 200 lb. and the field included many of the best grip athletes in the world. The top 3 overall results are 1) Gil Goodman (USA), 2) Jouni Mähönen (Finland), and 3) Kody Burns (USA), all of whom happen to be in the 93 kg class! I've attached a picture of the competitors from the Tennessee venue. Gil is on the far right.


                                                                    ###



Follow IronMind on Twitter and on Facebook.


Want to talk strength? Visit the IronMind Forum: Strongman, grip, Highland Games, Olympic lifting, stones and more.