Giants Live on Channel 5 Tonight
The Giants Live World tour goes out on Channel 5 (UK) tonight at 19:00 (GMT) starting tonight," Colin Bryce told IronMind today.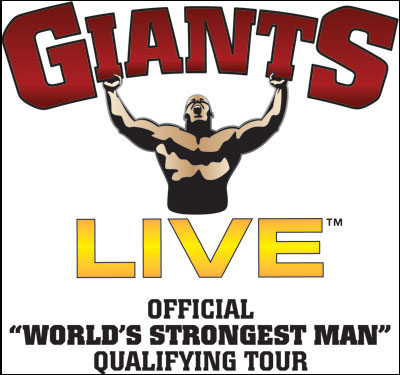 Giants Live, where a 2-meter, 160-kg strongman is just one of the guys. IronMind® | Courtesy of Giants Live.


Giants Live is the official qualifying tour for the World's Strongest Man contest and the one-hour shows run nightly at that time through Friday this week, so tune in and watch the best in strongman as they prepare for the World's Strongest Man contest.

Here is the schedule for the series, with the highlights from each show:

"Tonight strongman fans across the UK will be treated to a 215-kg attempt at the Axle World Record from Zydrunas Savickas and a 205-kg effort for the British Axle Record by Laurence Shahlaei. Check back through IronMind News to see what happened, or enjoy watching it as live tonight to see if they do it!

"Tonight's line up includes stars Brian Shaw, Ervin Katona, Stefan Solvi, Paul Pirjol, and Mark Felix all doing six events in the heart of Istanbul, Turkey.

"Tomorrow night's event is from the Excel Arena in East London. The Strongman World Record Deadlift is under pressure from the likes of Shaw, Felix, Lalas and Shahlaei," said Bryce.

Also up is the Giants Live website "which is up and revamped. We very much look forward to comments on the "wall" of our facebook page too," Bryce told IronMind.

###

The IronMind Forum: discuss this article, talk strength, get help with your training.

You can also follow IronMind on Twitter.