Giants Live Wrap Up: On to World's Strongest Man 2013
Giants Live, the official qualifying tour for the World's Strongest Man contest, did double duty last weekend with its final contests— one in Poland and one in England—leading up to WSM 2013.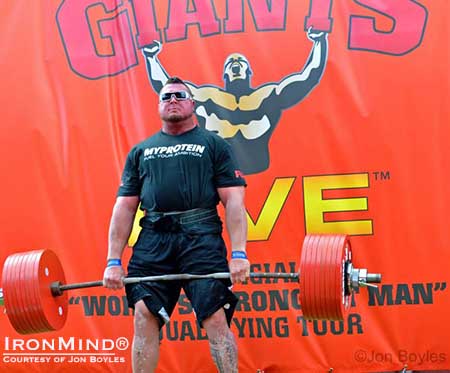 Jerry Pritchett (above) matched Laurence Shahlaei with this whopping 433-kg deadlift. IronMind® | Photo courtesy of Jon Boyles


"In Newcastle there was a contest within a contest as the British Championship was also being decided. Laurence Shahlaei came out on top after a brutal six event lead which was led by Terry Hollands and Jerry Pritchett at different points during the afternoon," said Colin Bryce.

Final Scores from Newcastle, England:

1. Laurence Shahlaei 64.5 ENG
2. Jerry Pritchett 59 USA
3. Terry Hollands 58 ENG
4. Mark Felix 56 ENG
5. Graham Hicks 49 ENG
6. Robert Oberst 46.5 USA
7. Simon Johnston 28 WAL
8. Lloyd Renals 24 ENG and Luke Stoltman SCO (tie)
9. Oyvind Rein 16 NOR
10. James Fennelly INJ IRE
11. Ed Hall INJ ENG

"Probably the most impressive performances on the day came from Laurence Shahlaei and Jerry Pritchett in the 'Strongman deadlift' (straps allowed). Both men hitting 433kg on an Eleiko powerlifting bar. Shahlaei taking the British Record. Pritchett then went for 443 to beat Savickas' World Record but failed. This is an event we will see again in the World's Strongest Man finals in China.


"The second Giants Live of the weekend also unfolded on Saturday in Poland. Nearly 500,000 people attended the Woodstock festival over the three days making it Europe's largest music festival. Vytautas Lalas had actually done enough to win the whole event after five events he was in such sparkling form. Misha Koklyaev came last in his bogey event the Conan's Circle to lose second place - dropping all the way to fourth.

Final scores from Woodstock festival Poland:

The final standings:

1. Vytautas Lalas – 53 points – LTU
2. Krzysztof Radzikowski – 45 points – POL
3. Lauri Nami – 44 points – EST
4. Misha Koklyaev – 43 points – RUS
5. Robert Cyrwus – 41 points – POL
6. Martin Wildauer – 35 points – AUT
7. Scott Cummine – 21 points – CAN
8. Ben Kelsey – 18 points – ENG
9. Bartlomiej Bak – 16 points – POL
10. Eoin Graham – 13 points – IRE

All was not lost for Kolyaev fans: "During the prize giving ceremony the big Russian was on the main stage in front of over 100,000 spectators - check this video on the Giants Live facebook page to see Misha Koklyaev stealing the show!

The World's Strongest Man groups are now being confirmed. The 30 athletes plus reserves are doing final visa checks and the confirmed list will be put out soon. WSM starts August 17th in Sanya, China," said Bryce.

 #

Want to talk strength? Join the IronMind Forum.

You can also follow IronMind on Twitter and on Facebook.