Giants Live/World Log Lift Challenge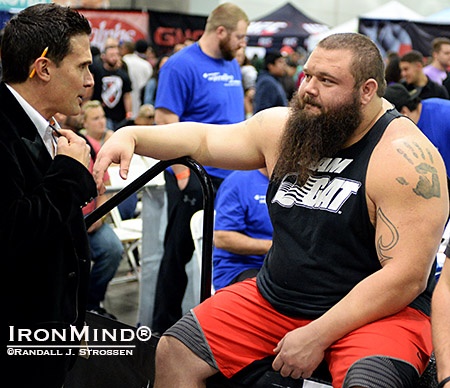 With the 2015 World's Strongest Man contest officially announced, all eyes in the strongman world will be focussed on Giants Live in Doncaster, England on February 14.

Giants Live is the official qualifying tour of the World's Strongest Man (WSM) contest, with the top three finishers in each of its contests guaranteed a highly-coveted WSM invitation.

"We are kicking it off with the World Log Lift Challenge and Zydrunas is there trying to beat his 227-kg world record," Giant Live Tour Director Colin Bryce told IronMind. "The log is the first event and then there's five more events for those still competing in the Giants Live. Top three go to Worlds Strongest Man in Malaysia which is going to be April 19 to April 26.

"The World Log Lift Challenge should be great as Eddie Hall is doing around to 220 kg in training, Robert Oberst (new American Log Lift record holder) is close to that too; and Dimitar Savatinov is flying in now especially for this as he has posted 230 kg in training, 3 kg above the world record!!!

"For the first time ever Big Z could be under real threat in an overhead Log contest. As the venue is a complete sellout, we have decided to broadcast the whole Log Lift Challenge live on the Internet, as it happens, on:

www.officialStrongman.com

Fans who want it streamed to their house live should go check out the website and sign up for the feed now which will be February 14th at 13:00 UK time; that's 8 AM New York time," said Bryce.



                                                           ###



Want to talk strength?  Join the IronMind Forum. 

You can also follow IronMind on Twitter and on Facebook.