Giants Live: Returning to Finland in 2012
"Last year, the Strongman Champions League (SCL) organized a joint venture with Colin Bryce to present a Giants Live World's Strongest Man qualifier in Finland," SCL cofounder Ilkka Kinnunen reported to IronMind, "and the competition was a big success, so this year year the co-operation will continue even closer."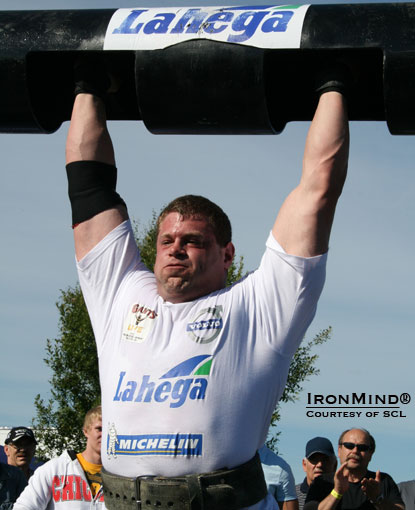 Last year's winner, Martin "The Deadlift Kid" Wildauer, is expected to be on hand to defend his title. IronMind® | Courtesy of SCL.


"On June 9, SCL will organize again with Giants Live this contest in the IdeaPark in Lempäälä, Finland, where the world's top strongmen will compete to win a place to World's Strongest Man 2012.

Colin Bryce said: "Giants Live, The Worlds Strongest Man Qualifying Tour, are absolutely thrilled to be coming back to Finland in 2012. Last year Giants Live was a very successful part of the Power Truck Festival in Ala Härmä where thousands of fans got to enjoy some of the World's Strongest Men in action. Again in a powerful cooperation with SCL.

"This year we are planning on making it an even bigger and better event. We will be inviting the absolute top strongmen in the world to the Ideapark contest on June 9. As ever, we will qualify the top three for the World's Strongest Man (WSM) contest, which will take place in September of 2012. This means the contest will be extremely important for the Finnish athletes and those athletes from around the World invited along.



"This will be their big chance at gaining a golden ticket to WSM. This year we will have athletes from the USA, UK and all over mainland Europe. To make this the challenge it needs to be we will be making the weights as heavy if not heavier than ever before. If an athlete comes top three at this contest then they will truly deserve a place at the Worlds Strongest Man show. 



"We look forward to meeting all the amazing Finnish strongman fans once again in 2012. See you in June!"

IronMind expects details about the events and athlete shortly, so stay tuned.

###



The IronMind Forum: discuss this article, talk strength, get help with your training.

You can also follow IronMind on Twitter.