Giants Live-Budapest: Burke, Hall and Solvang Qualify for WSM
Giants Live director Colin Bryce calls the action for IronMind as Mike Burke, Ed Hall and Bjorn Andre Solvang qualified for the 2013 World's Strongest Man contest.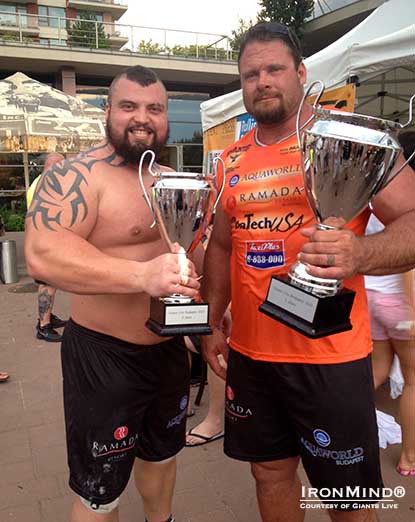 Ed Hall (left) and Mike Burke (right) are headed to the 2013 World's Strongest Man Contest after qualifying at Giants Live-Budapest. IronMind® | Photo courtesy of Giants Live.


2103 Giants Live-Budapest
by Colin Bryce

Budapest Giants Live was a big success for the 2nd year running. The weekend started with an exclusive trip to the Houses of Parliament and luxury cruise up and down the Danube. The athletes finished the Friday evening off with an impressive attempt at eating the Hard Rock Cafe Budapest out of business. The contest itself was at the Ramada Aquaworld Resort.

On the contest day it was hot. 38 degrees centigrade/100 degrees Fahrenheit hot. The Bus Pull awaited and it was a fairly easy start. The bus pulled hard at the start but cam easier as the event went. It was a big surprise when the young Norwegian, weighing only 120kg, managed to beat the likes of Mike Burke and Ed Hall to take first.

The second event, the Viking Press, was closely run again. Solvang and Mike Burke both hitting 18 reps a piece. Ed Hall took the unofficial strict press prize—blasting out 17 reps without a hint of using his legs.

Event three was the Super Yoke and Akos Nagy, winner here in 2012, came into his own. The former Junior World Weightlifting champion used those super powered legs to drive him home.

Event four was the Car Deadlift. Ed Hall won it with 17 reps in 60 seconds. Just one rep ahead of Mike Burke.

The penultimate event was the weight for height. Mike Burke and Ed Hall were the class acts here. The 25 kg weight went soaring over every height up to 5.2m when Mike Burke had the win on his own. Mike then asked for 6m. This is 13 cm higher than Misha Koklyaev did at the Giants Live in South Africa in 2010. This was an attempt at 19'6" inches. Here is the link to youtube to watch for you to decide how close he was:

http://www.youtube.com/watch?v=AUGgU6edaNA

With just one point between Ed Hall and Mike Burke for first going into the last event The Rock Lift and Bjorn Solvang and Akos Nagy tied for third the last event was a nervy finish. The four odd shaped rocks had to be lifted the quickest. Akos had a decidedly unsatisfactory run which allowed Bjorn Solvang to capture third and gain a guaranteed place to The Worlds Strongest Man contest in 2013. As for Ed and Mike - Ed did a great time but few people on earth could have matched Mike Burke for speed at this. He absolutely manhandled the rocks like they were made of polystyrene.

So Burke, Hall and Solvang join the top three from Giants Live Melbourne—Poundstone, Best and Scheun—on the plane to China for the World's Strongest Man contest in China. As for the Hungarian hero Akos Nagy, he will now have to wait with the others and hope for a wildcard selection of of his impressive 4th place performance.

Results for Hungary

1st Mike Burke - USA
2nd Ed Hall - UK
3rd Bjorn Andre Solvang - NOR
4th Akos Nagy - HUN
5th Alex Curletto - ITA
5th = Tamas Hajnal - HUN
7th Marc Van Der Haer - RSA
8th Sergi Romanchuk - UKR
9th Alen Redosovic - SRB
10th Tomi Lotta - FIN

A special thank you to Svend Karlsen and Darren Sadler for refereeing the event.

The next contest for Giants Live is Europe's Strongest Man in Leeds, England this Saturday, June 29th. Tickets are still available on www.europestrongest.man. The line up for this stunning one day show included Zydrunas Savickas, Thor Bjornsson, Vytautas Lalas, Krzysztof Radzikowski, Laurence Shahlaei, Johannes Arsjo, Terry Hollands, Mark Felix, James Fennelley and Jack McIntosh. With a Great Wall 4x4 going to the winner (worth $30,000 usd) there is more than pride at stake.


###

Visit the IronMind Forum: talk strength, discuss this story. Strongman, grip, Highland Games, Olympic lifting, stones and more.

You can also follow IronMind on Twitter and on Facebook.