Giant Live - London: Brian "The Evolution" Shaw Wins the Title, WSM Invitation
London—Bill Kazmaier called Brian Shaw, "The evolution of strongman," and the 6' 8" 440-lb. (200 kg) strongman showed again today why he's the man to beat in 2012 as he won the Giants Live–London strongman competition, meaning that he's on his way to World's Strongest Man (WSM) again this year.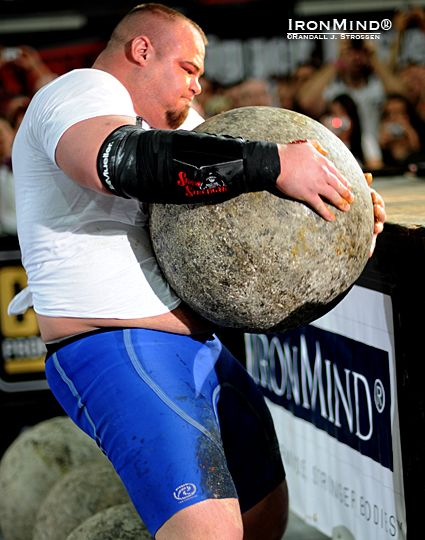 Brian Shaw badly fumbled the second of the five Atlas Stones and anyone else might have either dropped it or simply ended his run at that point, but Shaw regained control, hit the gas pedal again and still managed to win the event, not to mention the overall contest. This victory earned Brian Shaw an automatic invitation to the 2011 World's Strongest Man contest. IronMind® | Randall J. Strossen photo.


Today was a six-event contest in London's ExCel Center, where the Giants Live strongman contest lit up the expo hall and had fans lined five deep around the perimeter as well as filling every seat in a large area reserved for spectators.

And why not? Along with featuring some of the biggest names in the professional strongman circuit, the contest was ably emceed by Svend Karlsen and Derek Poundstone. Karlsen, maybe afraid that Poundstone might have the edge in the injury department with his cracked vertebrae, was hobbling around on crutches, the result of a hamstring pull suffered in a recent TV game appearance where he apparently bowled over some football players, but was left with an injury he'd never incurred as a strongman competitor.

Things kicked off in grand style with an assault on the strongman deadlift world record and after a lot of big pulls, Brian Shaw and Laurence Shahalaei were left sharing top honors at 430 kg after Shahlaei passed on 440 kg and Shaw pulled it off the ground, but could not finish the lift. Mark Felix was third at 420 kg.

Terry Hollands, who had come into this contest beat up pulled out after the deadlift, no doubt choosing to keep his powder dry as a World's Strongest Man podium is within his reach if he can stay healthy.

Shahalei blistered the course on the Farmer's Walk, leaving Brian Shaw well in arrears as Shaw chose to make sure he had the grip he wanted before beginning the return leg. "I knew I had some good events coming up," he told IronMind when asked about what appeared to be a very conscious decision not to rush the turnaround in an effort to match Shahlaei.

Shaw came back to win the Apollon's Axle with 205 kg, done with a power jerk that has to get the bar high enough off the ground that it's getting dizzy. Shahlaei and Vitautas Lalas both hit 195, with Lalas demonstrating very impressive overhead pressing strength.

Next up was a Loading Medley featuring two small barrels (kegs) and one IronMind sandbag. Lalas won, Shaw was second and Stefan Solvi-Petursson, who turned 25 today, was third.

The 100 kg Circus Dumbbell ("its handle is thicker than a Coke can," Derek Poundstone explained to the crowd) was hoisted with two hands to the shoulder and then lofted overhead however the athletes might prefer. Shaw won with 5 reps, Lalas hit four and Darren Sadler did two.

The Atlas Stones capped off the competition, a series of five with the heaviest tipping the scale at 205 kg. Six of the competitors loaded all five and with one man to go, the birthday boy—Stefan Solvi Petursson—had the lead. That man, who resembles a small mountain, was Brian Shaw, and every expectation was that he would rip through the course even though given the way things had played out, he only needed to lift one stone to win the overall title.

Things don't always go according to plan, though, and Shaw fumbled the second stone, but instead of either dropping it or just walking away from the event with his overall victory, he regained control and reestablished his pace. Lo and behold, even with that major detour at the midpoint, Shaw won the event!

Here are the final scores, officially:
| | | |
| --- | --- | --- |
| 1. | Brian Shaw (USA) | 67.5 |
| 2. | Laurence Shahlaei (UK) | 54.5 |
| 3. | Vitautas Lalas (Lithuania) | 53.0 |
| 4. | Stefan Solvi-Petursson (Iceland) | 50.5 |
| 4. | Mark Felix (UK) | 50.5 |
| 6. | Darren Sadler (UK) | 47.0 |
| 7. | Gary Gardner (UK) | 31.0 |
| 8. | Rafel Wilczynsk (Poland) | 30.5 |
| 9. | Lauri Nami (Estonia) | 28.5 |
| 10. | Alex Curletto (Italy) | 13.5 |
| 11. | Terry Hollands (UK) - withdrew | 9.0 |
| 12. | Ricardo Nort (Brazil) | 8.5 |
Giants Live is the official qualifying tour for the World's Strongest Man (WSM) contest, which means that Brian Shaw, Laurence Shahlaei and Vitautus Lalas have received the most coveted invitation in strongman, so watch for them in WSM 2011.


###
Want to talk strength or discuss this article? Join the IronMind Forum!

You can also follow IronMind on Twitter.