German Weightlifting: Steiner, Spiess and Velagic
The first phase of their training is off to a good start for the German men's weightlifting team, including Olympic gold medalist Matthias Steiner.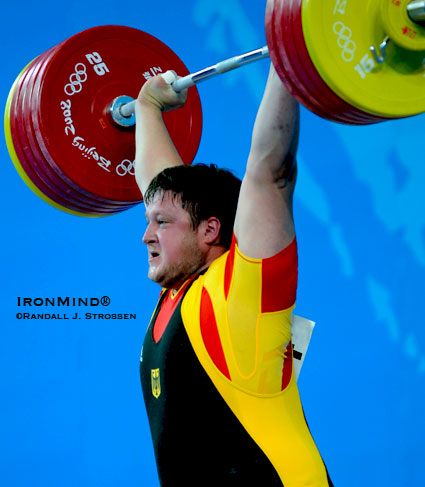 This last attempt 258-kg clean and jerk gave Germany's Matthias Steiner the super heavyweight gold medal in weightlifting at the 2008 Olympics. IronMind® | Randall J. Strossen photo.

The 2008 German men's Olympic Weightlifting team hit a home run in Beijing and as part of their post-Olympic fun-mixed-with-work, they starred in the IronMind® Invitational at the 2009 Arnold, holding a mini-contest in the Grand Ballroom and an exhibition on the main stage of the Expo Hall, among other things.

Now, it's full steam ahead, with an eye on both the World Weightlifting Championships later this year, and, longer term, the 2012 Olympics.

Training is going well and "we are at the beginning of this preparation," coach Michael Vater told IronMind®, and if you want to hang some numbers of their performances, here is where the 2008 Olympians were in their first week (snatch-clean & jerk, in kg):

Matthias Steiner: 170-210
Almir Velagic: 160-180
Jürgen Spiess: 150-170

As part of their participation in the 2008 Arnold, the German team put on a seminar at the Speed-Strength Summit, where IronMind®'s Randall Strossen introduced them by saying, "This is the team that the USA can learn the most from if it wants to be successful, once again, in weightlifting."

Stay tuned for more progress reports as we draw closer to the 2009 World Weightlifting Championships.