German Weightlifting Federation Calls for Resignation of IWF President
In a widely circulated letter, the German Weightlifting Federation (BVDG) has called for the resignation of International Weightlifting Federation (IWF) president Dr. Tamas Ajan based on what the BVDG describes as the IWF's substandard drug testing program and the IWF's attempts to bully any who challenge its policies.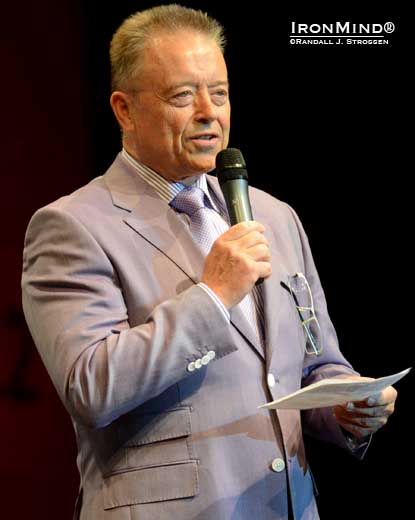 Claus Umbach, president of the German Weightlifting Federation, addresses the sold out crowd at the German Olympic Weightlifting Team Trials earlier this year. IronMind® | Randall J. Strossen photo.

Doping and drug testing have a long history in the sport, as weightlifting was one of the first sports to capitalize on the performance enhancing qualities of anabolic steroids. Following a number of embarrassing positives, such leading international figures in sports administration as former World Anti-Doping Agency (WADA) president Richard Pound have put a spotlight on weightlifting, questioning its fitness for the Olympic program.

The IWF maintains that it runs a strict drug testing program, but the BVDG does not agree and uses the IWF's testing statistics to make its point that the actual allocation of IWF drug tests falls short of its announced policy. In fact, a quick independent check of the IWF data shows that approximately 67% of the men's weightlifting medalists at the 2012 Olympics had either zero or one test from January–July of this year, a critical period in terms of preparation for the London Games.

The BVDG call for Dr. Ajan's resignation in the face of apparent IWF drug testing mismanagement coincides with a movement led by the European Weightlifting Federation (EWF) which reported that, for example, the IWF had in excess of US$20M in unreported deposits.

The IWF maintains a provision in its drug testing policy that allows a country with positive results to pay a fine rather than be suspended. Those fines are in the range of US$500,000 and are always paid in cash, in US dollars, according to multiple sources intimately familiar with the process.



###

The IronMind Forum: discuss this article, talk strength, get help with your training.

You can also follow IronMind on Twitter.