George Asanidze Wins the 85s
Athens – A handful of lifters had to be considered contenders in this class and when the dust settled, the guy from Georgia whose right arm was permanently damaged in a childhood fracture struck gold, a competitor from B-session got the silver, and Greek hero Pyrros Dimas got the bronze.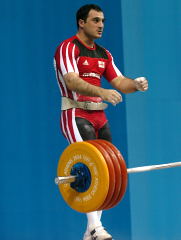 George Asanidze put away this 205-kg clean and jerk, paving the way to the gold medal. IronMind® | Randall J. Strossen, Ph.D. photo.
Although his right arm twists and sometimes just buckles on him, Asanidze is one of the world's best snatchers in this category and true to form he had the top snatch in the A-session, 177.5 kg. Only Andrei Rybakou (Belarus), who did 180 this morning, topped this lift. Dimas had opened with 170, made a very nice lift and he seemed on. There was a feeling that he had to make at least 175 to be in the hunt for his fourth gold medal, so when he came back to make it on his third attempt, after missing it, great things seemed possible.

Of the leaders, Dimas opened first in the clean and jerk, power jerking 202.5. Asanidze made the same weight on his opener, for what you knew was a very important lift. Dimas' second attempt ended in a pull, and that put the competition in the balance. When Asanidze followed with a good lift at 205, it felt like it might be his gold medal day.

Dimas took 207.5 on his third attempt, trying to move into gold medal position, and after a strong clean, the jerk collapsed him. The superstar lifter quietly walked over to the side of the platform, took off his shoes, left them there and walked off. Asanidze lost the jerk on 207.5, too, so now all he could do was watch and wait.

Sergo Chakhoyan (Australia), who had missed the jerk twice at 205, rolled the dice by taking 207.5 for the gold medal, but couldn't stand up with the weight.

With two attempts left on the board, they both belonged to Yuan Aijun (China), who had only gotten in one snatch (167.5 kg) and had opened with 205 kg in the clean and jerk. Yuan called for 215 kg, going for the gold. Twice he cleaned it strongly, only to miss the jerk.

If you weren't there, it would be impossible to describe the intensity of crowd's support for Pyrros Dimas—he probably got ten minutes of non-stop applause and cheering when he was awarded his bronze medal, and each time he had come out to lift, you thought the fans were going to blow the roof off the stadium.

Sure, Pyrros didn't get his fourth Olympic gold medal, but this class had an ending that beats any script.