GNC Grip Gauntlet Set for the Olympia
It's confirmed: the GNC Grip Gauntlet, the world's premier test of overall grip strength, is set for the Olympia this weekend, so if you think you've got world-class grip strength, want to find out how strong your grip really is, or just want an excuse to meet Karl, Brad, and Wade Gillingham, be sure to stop by the GNC Pro Performance booth.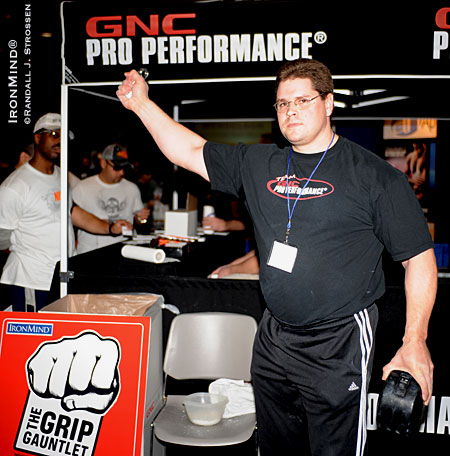 Wade Gillingham (above), along with his brothers, Karl and Brad, will be featured at the GNC booth at the Olympia this weekend, so stop by, say hello, and give the GNC Grip Gauntlet a try. IronMind® | Randall J. Strossen, Ph.D. photo.

"The GNC Grip Gauntlet, the world's most recognized test of true grip strength, will make its final stop for 2008 at the Olympia Fitness Expo this weekend," Wade Gillingham told IronMind®. "The simple format and open invitation has seen thousands of strong men try, but to even complete a single leg of the three-event challenge has proven to be a notable accomplishment."

Wade Gillingham, noted grip guy and Blob master extraordinaire, will be flanked by his brothers, Karl, a top professional strongman, and Brad, an IPF world champion.

Over the years, the GNC Grip Gauntlet has appeared in light, medium and heavy formats, although the top end is always available for anyone who thinks he's up to the challenge. This weekend "the GNC Grip Gauntlet will be on the 'medium' format, which uses a No. 2.5 Captains of Crush® Gripper, 197 pounds on a Rolling Thunder®, and a 50-pound Blob," Gillingham explained.

All contestants will get a free GNC Pro Performance shirt for competing and winners will get a gift certificate for GNC products.

For full details on the Olympia, please visit their "The Biggest Grip Contest in the World".

All are welcome at the GNC Grip Gauntlet, so stop by the GNC booth at the Olympia, meet the Gillingham brothers, and give the world's leading grip contest a try.