GNC Grip Gauntlet: Four More Make the Grade
"The GNC Grip Gauntlet . . . has sampled the strength of over 10,000 men," Wade Gillingham wrote in the June 2006 issue of MILO®, and this weekend, at the FitExpo, another wave of stalwarts gave it their best shot, with four succeeding officially and another one doing it unofficially.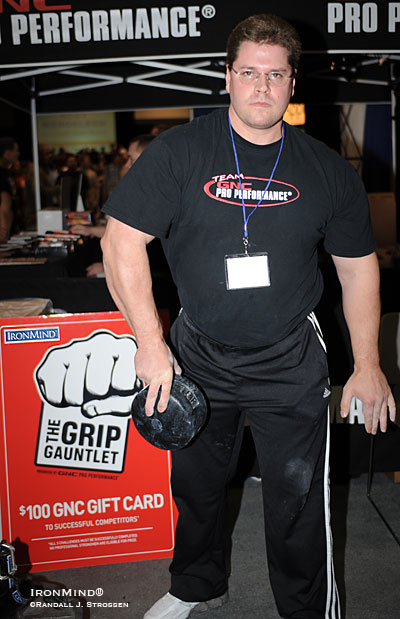 Wade Gillingham - in another dazzling display of Blob mastery - lofts an "unliftable" Blob using only two fingers plus his thumb at last weekend's FitExpo. IronMind® | Randall J. Strossen photo.

"An estimated 700 competitors tried but only four eligible competitors completed all three of the GNC Grip Gauntlet challenges this past weekend at the Ironman FitExpo in Los Angeles," Wade Gillingham reported.

"Donovan Donnell, Ronnie Castro, James Rude, and Vache Sevajian became the latest to join the exclusive GNC Grip Gauntlet list by closing the No. 2 Captains of Crush® Gripper, lifting 187 pounds on the IronMind® Rolling Thunder®, and lifting the 50-pound Blob. In addition, Corey St. Clair, although ineligible [for the prize] due to his professional strongman status, was able to complete the challenges, while Dave Ostlund and Odd Haugen opted to save their grip for the strongman contest and 'only' chose to lift the 50-pound Blob.

"With four individuals completing the challenge, event organizers are considering upping the weight for the Arnold Expo," Gillingham told IronMind®.

The GNC Grip Gauntlet was started in 2004 as an extension of the Blob Challenge that Wade Gillingham had run at the 2002 Mr. Olympia and the 2003 Arnold. In 1991, IronMind® had introduced the idea that grip strength really involved three primary forms - crushing, pinching and supporting - so when Wade Gillingham and Randall Strossen discussed the structure of a more inclusive test of grip strength, it was natural to apply this framework, using standardized, widely available pieces of equipment (although now, getting an authentic Blob can be pretty pricey).

Fun, simple and fully capable of sorting the contenders from the pretenders, the GNC Grip Gauntlet will be on hand at the Arnold, so be sure to stop by the GNC booth - say hi to the Gillinghams and take a shot at the Gauntlet.