GNC Gillingham Grip Gauntlet
Wade and Brad Gillingham will be running the GNC Gillingham Grip Gauntlet at the Show of Strength, so for everyone with a great grip, here's a fun way to put it to the test.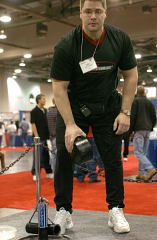 Wade Gillingham hoists the Blob for the nth time at the 2004 Arnold Expo. IronMind® | Randall J. Strossen, Ph.D. photo.
This event was extremely popular at the Arnold Expo earlier this year and it had a constant line of people ready to take their shot at hand strength fame by completing the three grip challenges: Close a No. 3 Captains of Crush® gripper, lift 212 pounds on an IronMind Rolling Thunder®, and hoist the Blob. Although the number of people who tried this challenge ran into four figures, Wade Gillingham said that only one person completed all three world famous feats of grip strength - Monte 'Alpha Male' Brown, a former NFL linebacker who now wrestles professionally - although even he was unable to do the lifts back to back.

Wade, on the other hand, casually knocked off the challenge repeatedly, and displaying one of his trademark feats of grip strength, Wade made lifting the Blob look like it was made of balsa wood. Wade said that he considering modifying the format a bit from the Arnold by imposing a time limit, for example, and possibly adjusting the weights to give more competitors a chance to succeed.

Don't think you have to be a hand strength king to join in the fun - everyone is welcome to try, so stop by the GNC booth, say hi to grip guy Wade Gillingham and two-time IPF world champion Brad Gillingham, and while you're there, put your hand strength to the test.

The GNC Show of Strength is October 8 - 10 in Atlanta and you can check details on their website.